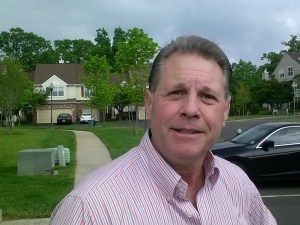 BRIDGEWATER – David Larsen trudged up another rain-spackled sidewalk in the middle of the afternoon on Friday and politely tapped on another door.
He politely left another mailer and another Larsen campaign-generated newspaper rolled up in the doorway of another empty domicile.
Up and down another flight of steps; and across another series of sidewalks and unopened doors in this nondescript neighborhood enclosed by strip malls and highways, Larsen's closed fist finally creaked open a door.
"I'm a Reagan conservative Republican," said the cheerful candidate, running against incumbent U.S. Rep. Leonard Lance (R-7) in next week's Republican Primary.
It's Larsen's third try.
He ran in 2010 with the headwinds of the Tea Party movement behind him, but two other anti-establishment candidates gnawing into him.
Then he took a shot again in 2012 and did worse.
Now he's going again, with one-time allies either removed from the field (former Highlands Mayor Anna Little, once a Tea Party darling carrying the movement banner on the other side of the state), or relocated (Steve Lonegan, now running for Congress himself in the CD3 Republican Primary).
According to May 14th Federal Election Commission filings, Lance has $389,040 cash-on-hand, compared to Larsen's zero.
Mention the name Lonegan to Larsen and the challenger grimaces slightly, but can't shake off what seems to be a genuinely friendly and committed demeanor.
"I understand," he said, referring to Lonegan's lovey-dovey political relations with Lance last year.
Larsen had been the loyal movement conservative soldier at Lonegan's side when the former Bogota mayor filed to run in the Republican U.S. Senate Primary, only to find himself lost amid a sea of faces at the Lance-emceed endorsement of Lonegan's candidacy by Gov. Chris Christie.
With an eye on 2014, Lance – once a classic Eisenhower Republican turned mountain man anti-Obama crusader following Larsen's cap and trade-fueled 2010 challenge – would go on to be Lonegan's most animated establishment backer.
Now he's here to collect, offering Larsen a single debate appearance (tomorrow) and enjoying what appears to be the diffusion of movement conservative support (state Sen. Mike Doherty (R-23) – a Loneganite and the movement's biggest name in the Statehouse – backs Lance).
Larsen troops on indefatigably.
"I'm sorry, mister," said the voice through the half open doorway to his speech about Reagan, "I'm just the maid here. I don't vote."
Moments later, Larsen found a senior citizen on her way into her house.
Scandalized by what he identifies as Republican complicity in the Obama era, Larsen asked the woman if she's happy with current events.
"I am," she said.
"Really?" inquired the candidate.
"Yep."
Larsen headed toward another outcropping of houses.
"Lincoln ran many times before he won," he said, "Reagan many times."
Larsen, trudging up another spindly wooden staircase, showed no signs of slowing or of tiring, as he once again – in a long-shot exercise – seeks to oust Lance, this time next Tuesday.