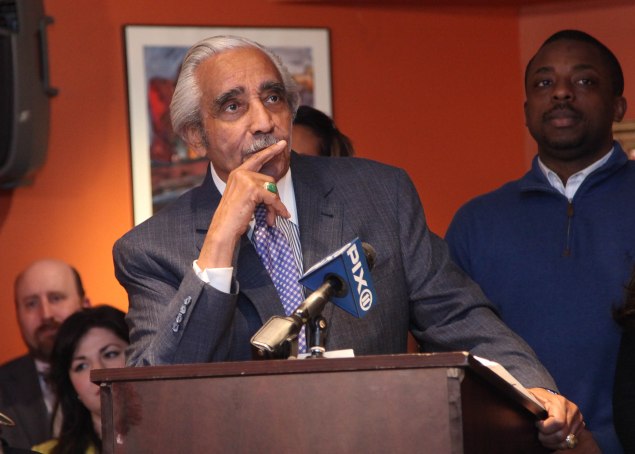 Congressman Charlie Rangel wanted to talk.
Adriano Espaillat, a state senator and top rival, had just labeled Mr. Rangel's mock phone conversation during a Wednesday night debate "an embarrassment." The Hotel Trades Council, a union with growing clout, was about to back Mr. Espaillat. And the 83-year-old, facing what many see as an uphill battle, was left to reflect, in a wide-ranging interview, on what could be an unceremonious end to a nearly half-century-long political career.
"These campaign people are afraid that what I'm going to say to you is damaging to me," Mr. Rangel said as he opened a half-hour phone interview yesterday with the Observer. "My conversation here can change the whole campaign."
In the second debate of the 13th Congressional race, Mr. Rangel stunned the audience and inspired a segment on The Daily Show when he pulled out his cell phone and proceeded to chide both of his opponents, Mr. Espaillat and Pastor Mike Walrond, in a lengthy imaginary phone conversation. The tactic was intended to mock the allegedly thin résumés of Mr. Walrond and Mr. Espaillat. Both contenders, unsurprisingly, took offense.
Mr. Rangel explained that he came up with the idea because he figured the debate moderators would never ask the proper questions.
"I knew looking at the format, there would be no questions there dealing with any accomplishments. I knew the center sponsoring this was just as much concerned with their agenda," he said. "There were questions about poverty, homelessness and what not, and public officials have same emotion about the same issues including the minister [Mr. Walrond], but none of the topics appeared to suggest who would be better prepared to do the job."
"I also knew who won and who lost could be considered on who brought the most people here, who shouted the loudest, who was entertaining," said Mr. Rangel, whose supporters were far outnumbered in the church.
Mr. Rangel's seat in Congress, now spanning upper Manhattan and the Bronx, has been threatened before. Mr. Espaillat nearly ousted him in 2012, coming within 1,100 votes of victory in the now-majority Latino district. And two decades ago, Adam Clayton Powell IV ran a furious but unsuccessful challenge.
But the congressman–who is on the cusp of losing the endorsement of every influential labor union in the city, and was already denied the backing of major city pols like Comptroller Scott Stringer and Council Speaker Melissa Mark-Viverito–has never been so endangered.
Mr. Rangel recalled one elected official, whom he refused to name, "balling up his fist with utter contempt" and telling the Harlem lawmaker his defection was "political, not personal."
"How the hell are you going to hurt an old man?" he said when asked whether he was upset or offended by the defectors.
The loss of labor support seems to be even harder for the liberal congressman to stomach.
"I challenge any union member, if they have to ask: Who doesn't just vote right? Who has fought with unions on picket lines in Alabama and Mississippi? Who has been there not because I love unions and living wages–I can say in my heart if it wasn't for labor unions there would be no damn Constitution, they built the middle class, they built America," he railed.
He seemed baffled that unions like the United Federation of Teachers, which backed him in 2012, were now deserting him this time around. "Some reporter should ask what the hell is going on," he said.
Meditating on Mr. Espaillat, a Dominican-American Democrat looking to harness the political might of the district's burgeoning Latino population, Mr. Rangel couldn't help but be dismissive.
"His introduction to me was almost embarrassing, but I knew he wanted to let me know how much he loved and liked me. I would say, 'Who is he?" said Mr. Rangel, reflecting on the pair's first interactions when Mr. Espaillat was an assemblyman.
"What motivated him [to challenge me]? Did he think there was a big vacuum there? Did he think maybe I missed something? Hell no!" he continued, his voice rising. "He looked at that new district and he figured he could win on numbers. Then the question has been asked, or should be asked, 'Congressman, why have there been people who supported you so loyally in past now endorsing him?"
What seems to also haunt the congressman is his inability–or unwillingness–to crown a successor who could have run to take his place. Many veteran elected officials work to cultivate protégés and deftly corral the political establishment behind their favored candidate. If Mr. Espaillat wins, Mr. Rangel will never have that chance.
"My wife and I have talked about it. That mixes with the question: Why didn't you groom somebody? What do you intend to do with the leadership after you leave or retire? I can't begin to tell you the discussions I've had with my wife and grand kids."
"I talked to people I really wanted to serve. Unfortunately, they didn't believe they could win or weren't that well known or could raise the kind of money needed," he reflected, not naming rumored successors who failed to emerge like Assemblyman Keith Wright and ex-Gov. David Paterson.
All of this has left Mr. Rangel staring down a future out of elected office–if not next year then at the end of 2016, when the congressman says he plans to retire as President Barack Obama leaves office.
"The wonderful thing about old age is that your political ambitions are dramatically cut short," he said. "Am I thinking now about 2016? At my age, I don't buy green bananas."