Chelsea Leyland grew up in London on a houseboat on the River Thames, which may explain why she lives right by the waterside in Williamsburg. The 25-year-old deejay, a globe-trotter of sorts, is just finding time to settle into her new place, which she moved into in January. Ever the scene setter, Ms. Leyland, who is set to release her first electronic track this year, put on some music as we toured her apartment on a recent morning. The first tune was, appropriately, "To Build a Home," by the Cinematic Orchestra.
There's quite a mix of things in here. How would you describe your overall aesthetic? It's quite Brooklyn, isn't it? I also have kind of English-y elements. I like dark colors. My taste overall is quite masculine. I'm not the most feminine person. My room has a feminine feel in contrast to the rest of the place. There's no window, so I had to keep the room light décor-wise. I was actually quite scared about not having a window, but it has been the biggest blessing in the world, especially with my job as a deejay. It's just like a cozy, little nook.
What are some of your favorite items in the apartment? My favorite item is my zebra painting. I have so much love for it. I got it at the Brooklyn Flea. I just love it, because it's sort of weird, kooky and a bit off. It's Wes Anderson-ish. It was the first picture that went up on the wall. And then my other favorite item—I probably should've said this first—would have to be my cat, Louie, a.k.a. Trouble.
You clearly like collecting different knickknacks and trinkets. I love little anatomical things, like these little bottles here and my frog in a jar. I have anatomical prints. By my bed, you'll see I have a bat in a glass case. I'm going to sound like a total freak, but there is a chicken heart that I'm really obsessed with. And I really want it. It's in a kooky store on Eighth Avenue that sells cards and trinkets and Day of the Dead type things. I also love my velvet pumpkins. They're so bizarre. Like, who thought, today I'm going to make myself a velvet pumpkin?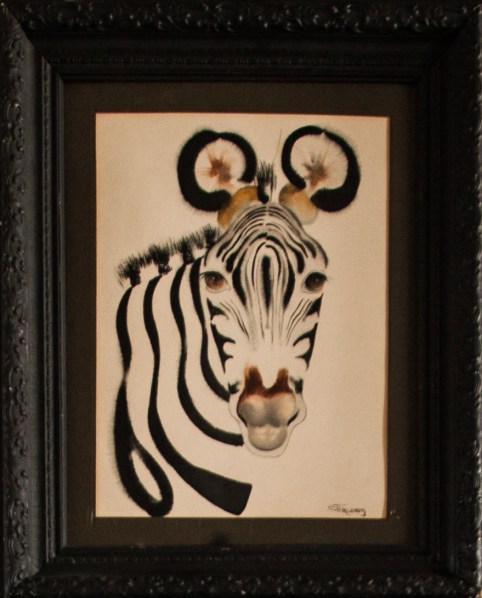 Do you do any entertaining? Yes, though I'm very particular about who I have in my space. I don't really have big parties. When I have friends over, it's my best group of friends, who actually all live in Brooklyn. Mostly, they're all English. We do, like, Sunday roasts. We keep things very British.
Do you put together any special mixes when people come over, or does that feel like work to you? I'm always putting together playlists, but it's rare that I work on finding mellow music for when I'm at home by myself. But I love doing that more than anything. It's just finding the time.
What do you think is the best music to play when you're hosting? It definitely varies. Everyone keeps asking me what I like currently. I have Darkside on repeat. It's sort of like psychedelic electronic.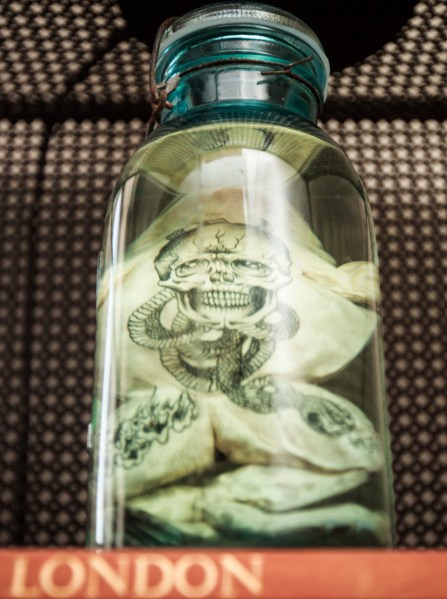 What do you like about Brooklyn? The people are a little softer and a little kinder here. I walk into my pet shop, and it's like, "Oh, hello, Chelsea!" I love that neighborhood feeling. Coming from London, I tend to relate to people a little more that choose to live here. I can't put my finger specifically on what that is, but I think Brooklynites have a different mentality.
Are you friendly with the people in your building? Yes, actually. Two or three doors down is my friend Nicholas Matar, who owns Output, the club in Williamsburg, right around the corner. I have a massive amount of respect for him. There's a girl who lives just next to him who is an amazing singer. It's a really cool building. A-Trak used to live here.
How many songs do you have on your computer? I just had a very terrible thing happen to me recently. I lost a year-and-a-half's worth of music. I thought I had a backup, but I didn't. It has been quite character-building, to tell you the truth. I'm building everything up again.