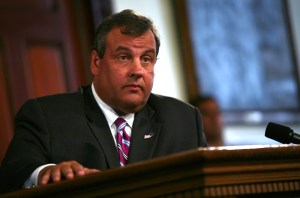 TRENTON – Gov Chris Christie says he's not too concerned about a lawsuit the state's largest public sector union promise to bring against him for using $2.43 billion meant for public workers' pensions to balance the state's budget.
The governor, suggesting his critics may want to "pile on" because his administration has been engulfed by a bridge lane closure controversy, stood by his decision to divert the dollars meant for pensions over the next two years toward the state's budget shortfall.
"I know that some people think that now is the time where you can pile on," said Christie, "[But,] I made the decisions that I believe are the right things to do. … If they want to sue, the courts are available to them."
The statement came after the Communication Workers of America announced earlier today they plan to sue the administration after he announced he'll reduce the $1.6 billion payment to the pension systems due this fiscal year by almost $900 million and reduce the payment due next year by over $1.5 billion.
"Governor Christie is not only breaking his word, but he's also breaking the law in failing to make these pension payments," said Hetty Rosenstein, CWA NJ state director, in a statement.
"If the pension payments are not made, the plan will go bankrupt," she said. "For these reasons, and more, we are taking the governor to court. And we will be mobilizing our members and allies in protest of Christie's outrageous, illegal actions."
And although Christie indicated he disagreed, he said it's well within the group's right to take the administration to court.
"If they want to go to court that's perfectly well within their rights," he said, adding unions in the state "want to be able to promise their members everything, but they pay for none of it."