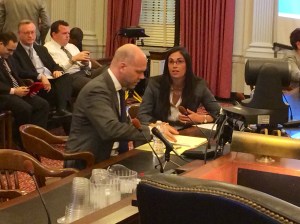 TRENTON – A former Gov. Chris Christie staffer and member of the administration's Office of Intergovernmental Affairs says they were never directed to give preferential treatment to local officials who lent their support to the incumbent Republican governor.
The IGA, which acted as a go-between for municipal leaders and the Christie administration, treated all mayors on an equal basis and never favored those who endorsed or planned on endorsing the governor as he embarked on his re-election campaign, said former Christie staffer and IGA worker, Christina Renna.
"We treated everyone fairly and equally," she said to the joint legislative committee investigating the George Washington Bridge lane closings during questioning about IGAs relationship with New Jersey mayors.
"It was a level playing field," she said.
Renna was questioned by committee co-chairperson Loretta Weinberg (D-37), who pressed Renna to discuss whether they gave preferential treatment to mayors – particularly Democratic mayors – who would offer Christie their endorsement in the lead up to the statewide election.
"Just because there were Democrats that were potential endorsers did not change the dynamic or the day-to-day operation at all," Renna responded. "IGA was … bipartisan."
The line of questioning was spurred by an email from former top Christie staffer and two-time campaign manager Bill Stepien, who described in an email garnering support for the governor from "Democratic allies."
"Super, super exciting," Renna said in the email exchange.
The exchanged prompted Weinberg to press, why was there specific reference to Democratic allies?
"There are Republican allies as well, there are all kinds of allies," Renna said. "It doesn't impact or influence the day job. … That's just what this email happened to be about."
Weinberg repeatedly pressed Renna to discuss when IGA members would handle possible endorsements, specifically, would they garner endorsements during work hours?
Potential endorsements were not handled by the IGA and if mayors approached IGA staff about endorsements, IGA staff would say they needed to talk to them either on the weekend or after work hours, Renna said.
Ahead of her testimony, Renna addressed the committee by first reading an opening statement affirming she knew nothing about the bridge lane closures while also boasting the accomplishments of the IGA.
"I had no knowledge of or involvement in the bridge lane closures," Renna said.
"I am proud that IGA is exactly what government should be and I am prouder still that the IGA staff mastered it," she said. "We accomplished truly wonderful things."
Renna began work with the IGA in 2010.
She resigned from the administration shortly after Christie was engulfed in controversy surrounding the lane closings.