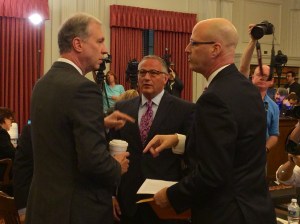 TRENTON – Gov. Chris Christie's "flippant remark" about being the one who "worked the cones" during the September George Washington Bridge lane closings is evidence the governor knew nothing about any political retribution scheme, said Christie's chief spokesman on Tuesday.
"He clearly was still trusting and believing … someone he trusted," Christie spokesman Michael Drewniak told lawmakers, referring to Christie's Dec. 2 news conference when he brushed off a question about the lane closings.
The governor trusted the word of former state senator and Port Authority appointee Bill Baroni, Drewniak said, and had no reason to believe the lane closures were anything other than a traffic study.
"His remarks that day suggest very clearly to me as someone who's known him for 12 years that he was still operating under the assumption that this was a traffic study," Drewniak told lawmakers during questioning by a joint legislative panel.
The spokesman referred to Christie's Dec. 2 comments when he was asked about the lane closures during a Statehouse news conference.
"I worked the cones," he said at the time. "Unbeknownst to anyone, I was working the cones."