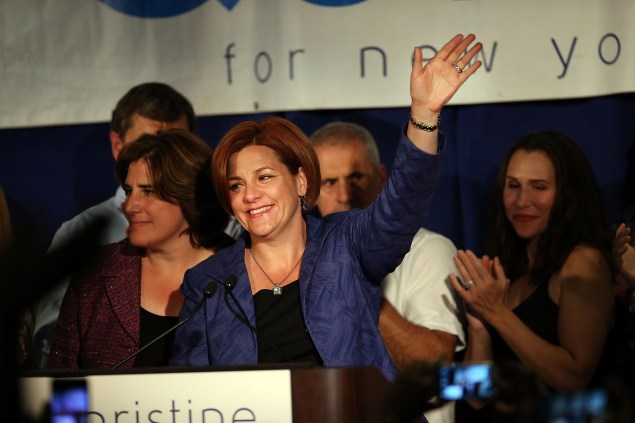 Former City Council Speaker Christine Quinn, who has kept a low political profile since her mayoral run ended in the primaries, re-emerged from hiding today, not as a candidate, but as an advocate for fellow Democrats.
In a conference call with Albany Mayor Kathy Sheehan this afternoon, Ms. Quinn took a hard stance against Republicans Rob Astorino, who is running for governor, and John Cahill, who is set to announce his bid for attorney general this weekend.
"Re-electing Governor Cuomo is one of the top priorities, in my opinion, for all of us statewide," declared Ms. Quinn. "Rob Astorino said that the Women's Equality Act was 'ghastly'. I in fact think that Rob Astorino and John Cahill's candidacies–to use their own words–are ghastly and unnecessary."
Most of Ms. Quinn's ire was focused on Mr. Cahill, who served as chief of staff to former Governor George Pataki, and is set to officially jump into the race against current Attorney General Eric Schneiderman this Sunday.
"As a pro-choice, New York woman, I am very worried about him joining this race because I know, as a New Yorker and a former elected official, that we need an attorney general in New York who is 100 percent in words and actions pro-choice," she said.
Specifically, Ms. Quinn expressed concern over Mr. Cahill's opposition to the Women's Equality Act, which would codify the 1973 Roe v. Wade decision into New York law and allow women to receive abortions within 24 weeks of pregnancy. In a radio interview on Fred Dicker's radio show in April, Mr. Cahill stated that he did not believe the bill's pro-choice protections were "necessary".
"Not only is it necessary, it's critically important, and it's exactly the kind of work we want an Attorney General to do," Ms. Quinn argued. "I think clearly his position is not in line with that of most New Yorkers, who really believe that a woman's right to choose is critically important."
She also charged that while Mr. Cahill was chief of staff to Mr. Pataki, the administration took "extreme anti-choice" measures, including vetoing a bill that would have expanded access to emergency contraception.
Despite the pointed barbs, much of the attention during the call remained on Ms. Quinn, who recently made an appearance on Bill Maher's HBO talk show after months in political hiding.
Asked about her future plans, the former councilwoman and housing advocate revealed little, however, saying only that she was interested in assisting other Democrats across the state.
"I want to be helpful to as many folks as I can across the state," she said. "I look forward to having some fun with state senate races, too, come the summer and fall."