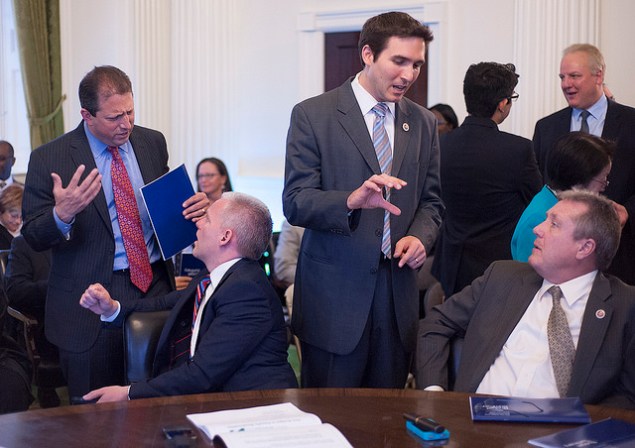 The City Council's Progressive Caucus–a left-leaning faction that spearheaded the election of Council Speaker Melissa Mark-Viverito–has nearly doubled its membership from a year ago, the group declared today.
The caucus now boasts 19 members, up from 11 members last year, according to a list released this afternoon. Last month, the caucus also named two new co-chairs, Councilmen Donovan Richards and Antonio Reynoso.
"The Progressive Caucus is a force to be reckoned with," said Mr. Reynoso in a statement released with the announcement. "We're excited about the role this diverse coalition will play in building a more equal and just New York City, and we look forward to partnering with all of our colleagues in the City Council to accomplish that goal."
The Progressive Caucus's growth was fueled partially by new members who were elected to the council late last year. Freshmen members of the group include the Bronx's Ritchie Torres, Upper East Side's Ben Kallos, Brooklyn's Carlos Menchaca, Chelsea's Corey Johnson, the Upper West Side's Helen Rosenthal and Upper Manhattan's Mark Levine.
While there are few surprises on the list, which is dominated by vocal supporters of Ms. Mark-Viverito, the number represents a significant departure from the Christine Quinn era, when the caucus was a vocal but marginalized minority. At least some council observers have wondered about the purpose of the caucus in a City Council that already sits so far to the left.
Still, not every original supporter of Ms. Mark-Viverito's speaker bid joined the caucus. Several council members who self-identify as progressives or were expected to join the caucus, including Queens Councilman Constantinides, Brooklyn Councilwoman Laurie Cumbo and Brooklyn Councilwoman Inez Barron, decided not join.
Ms. Cumbo and Ms. Barron did not immediately return requests for comment. Mr. Constantinides, who initially backed a top rival to Ms. Mark-Viverito last year, declined to comment.
View the full list of members below:
Council Member Margaret Chin (District 1, Manhattan)
Council Member Daniel Dromm (District 25, Queens)
Council Member Julissa Ferreras (District 21, Queens)
Council Member Corey Johnson (District 3, Manhattan)
Council Member Ben Kallos (District 5, Manhattan)
Council Member Brad Lander (District 39, Brooklyn)
Council Member Steve Levin (District 33, Brooklyn)
Council Member Mark Levine (District 7, Manhattan)
Council Speaker Melissa Mark-Viverito (District 8, Manhattan & Bronx)
Council Member Carlos Menchaca (District 38, Brooklyn)
Council Member I. Daneek Miller (District 27, Queens)
Council Member Antonio Reynoso (District 34, Brooklyn & Queens)
Council Member Donovan Richards (District 31, Queens)
Council Member Ydanis Rodriguez (District 10, Manhattan)
Council Member Deborah Rose (District 49, Staten Island)
Council Member Helen Rosenthal (District 6, Manhattan)
Council Member Ritchie Torres (District 15, Bronx)
Council Member Jimmy Van Bramer (District 26, Queens)
Council Member Jumaane Williams (District 45, Brooklyn)