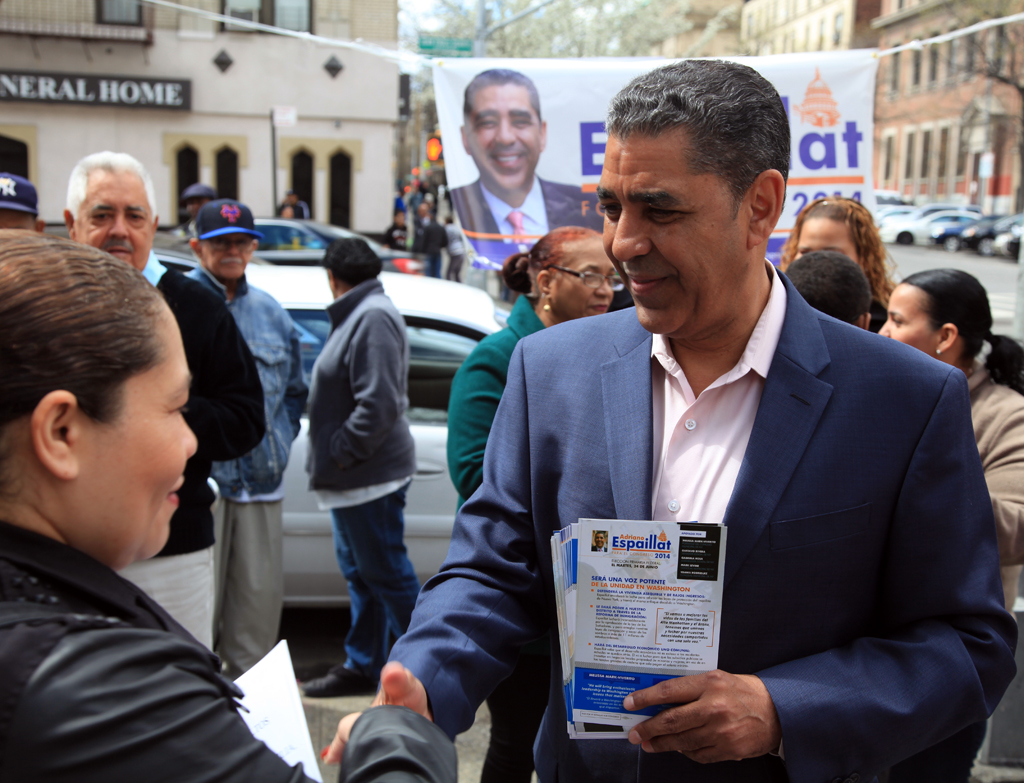 The United Federation of Teachers, one of the most powerful unions in the city, has voted to recommend backing State Senator Adriano Espaillat in his bid to unseat Charlie Rangel, the dean of New York's congressional delegation.
In a statement released after the vote this afternoon, the union's president, Michael Mulgrew, praised Mr. Espaillat's record on education, and argued the Washington Heights lawmaker "understands what New York schools need and will make sure the voices of teachers, parents and students are heard in Congress."
"He has been a vocal champion for pre-k funding and for additional state aid for education, and a proponent of Community Schools, which put needed health and community services where they have the most impact – inside city school," said Mr. Mulgrew. "He has also been a leading voice for banning standardized tests for our youngest students, supported a three-year moratorium against the use of Common Core testing for student promotion and placement, and has backed giving the city and state Comptrollers the power to audit charters, particularly charter practices that limit the enrollment and retention of high-needs students."
The nod is technically a recommendation from the UFT's delegate assembly to its state affiliate, the New York State United Teachers, to endorse Mr. Espaillat. But it represents a big win for the state senator, who nearly beat Mr. Rangel two years ago. That year, the UFT endorsed Mr. Rangel, along with most of the political establishment.
"I am humbled by the support of the UFT and its 200,000 members," Mr. Espaillat said in a statement. "Teachers are among the most important people in our children's lives and in the shaping of our future. In order for our community to succeed we need to give our parents, students and teachers every resource we can. In Albany I have fought to do just that and in Congress, I will continue to lead the way for fair contracts, school funding and education Opportunity for All."
The UFT represent more than 200,000 teachers, school aides and other staffers. While the power of its endorsement has been questioned (the union backed Bill Thompson over now-Mayor Bill de Blasio in the Democratic mayoral primary last year), the nod serves as another sign that establishment support is divided over Mr. Rangel, who is seeking a 23rd term.
Endorsements in the race have so far have been split along local and national lines, with Mr. Rangel racking up big-name national figures like former President Bill Clinton and Senator Chuck Schumer, and Mr. Espaillat locking down much of the city's prominent political establishment, including Comptroller Scott Stringer and Council Speaker Melissa Mark-Viverito.
In terms of unions, Mr. Espaillat has the backing of the Retail, Wholesale and Department Store Union and the Transit Workers Union Local 100, while Mr. Rangel has won endorsements from all three of the American Federation of State, County and Municipal Employee unions: DC 37, DC 1707 and the Civil Service Employees Association.
A spokesman for Mr. Rangel declined to comment
Also in the race are pastor Michael Walrond and Bronx community activist Yolanda Garcia.