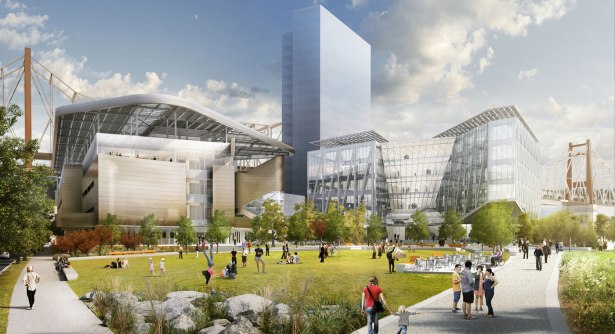 Tech workers are in serious demand in New York City, and Cornell Tech is getting set to build a tech campus that will bring a new generation of webutantes to NYC. This morning at Google's offices in Chelsea, Cornell unveiled their plans for the Jacobs Institute, the next step in their build-up toward the opening of their NYC campus.
The Jacobs Institute, a collaboration between Cornell and Technion – Israel Institute of Technology, is a small graduate program, providing custom-tailored degrees to address problems facing industries in New York. The first programs focus on the way information technology can be combined with connective media and health services.
"One of the things we discovered when we brainstormed with the [health] industry is that there's a huge gap between people from health and information technology," Institute Director Adam Shwartz said this morning at Google. "They don't speak the same language."
The Jacobs Institute wants to give grad students a tech education that includes some practicality and social awareness — it doesn't aim to be an insular, ivory tower tech campus you'd see in Silicon Valley, disconnected from the world at large and oblivious to the rest of society.
But that could be tough to avoid if your new campus is going to be an island fortress:
[youtube http://www.youtube.com/watch?v=PFRIKri9Y_c]
The Jacobs Institute will just be one small part of the upcoming Cornell Tech school, which has been under construction since this January, since beating Stamford in a battle for who would built a tech campus on Roosevelt Island. The campus is set to be completed in 2017. The budding island techno-utopia will include new roads, public parks and a coworking space, all packed in with the college campus. Until then, a small handful of engineering grad students — 18 so far, including graduates — are working out of a temporary space in the Google's Chelsea offices. Professors from the university say it's a great place to have boots on the ground, experimenting with pilot programs like the Jacobs Institute before they make their big move.
"It's fortunate that we start here," Associate Professor Mor Naaman said this morning, "but once those connections are formed, we'll be in great shape to move to the island."