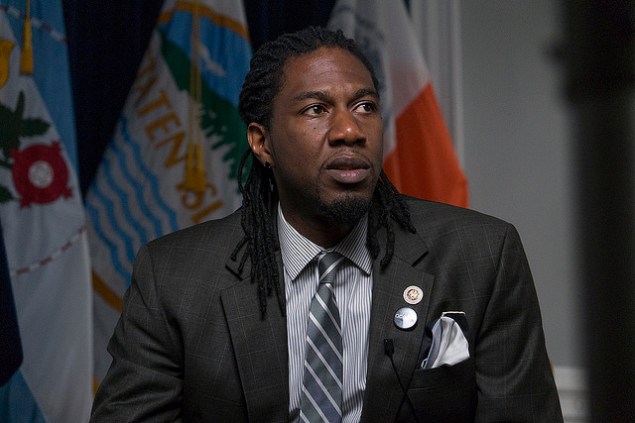 Brooklyn Councilman Jumaane Williams, who chairs the City Council's housing committee, expressed mild disappointment today over the scope of Mayor Bill de Blasio's signature affordable housing plan.
Mr. Williams told the Observer he was generally pleased with Mr. de Blasio's policy announcement, but said he would like to see the mayor push for additional cheap housing, more strongly back the repeal of a decades-old rent control law and ensure that building density doesn't threaten the "character" of neighborhoods.
"I actually am pretty excited with what I've seen," said Mr. Williams, one of the few liberal council members willing to openly criticize the mayor in an interview this afternoon. "However, there was no mention of the repeal of the Urstadt Law. Like Michael Bloomberg asked for home rule on education, Bill de Blasio should ask for home rule on housing."
"He should put as much pressure as he can," Mr. Williams added.
Mr. de Blasio's plan does, in fact, call for the repeal of the Urstadt Law–but that point, along with other proposals to strengthen rent regulations, were not featured prominently in the duo of press conferences he held today to tout the plan, which aims to create or preserve 200,000 units of affordable housing over the next 10 years.
A spokesman for Mr. Williams subsequently clarified that Mr. Williams understood Mr. de Blasio said he would fight for a repeal, but wanted that fight to take center stage. The law, passed in 1971, has irked city officials for decades. Enacted during a fiscal crisis, the law revoked the city's power to create "more stringent" rent control laws than the state and granted the legislature in Albany wide control over the city's ability to regulate rents.
Mr. Williams and other council members have been pushing the mayor to compel developers to make as much as half of the new housing units they construct "affordable"–a percentage far greater than the 20/80 affordable/market rate ratio that was common under the Bloomberg administration.
Mr. de Blasio's plan does not set a new, across-the-board standard, but he and other city officials made clear that they would push to get the best deal possible with every development, with Mr. de Balsio telling reporters, "The 80-20 model was the model of the past."
"I am very happy the mayor mentioned that 80-20 was outdated and I hope that he would research other models, like 50-50, and push further for lower income units," Mr. Williams said.
Mr. de Blasio also made clear today that he is willing to allow larger and denser developments in exchange for more affordable housing–something that many neighborhood activists and preservationists have long opposed. Mr. Williams echoed some of their concerns, cautioning Mr. de Blasio to consider the "character" of neighborhoods as he embarks on his building plan.
"He has to think about density going forward. Development needs to be done with a scalpel," Mr. Williams said. "We need to make sure we're not changing the character of neighborhoods."
"We have to do [development] if we want to get the housing we need, but there's a way to do that with the community in mind. We need to be having conversations with the community," he added.