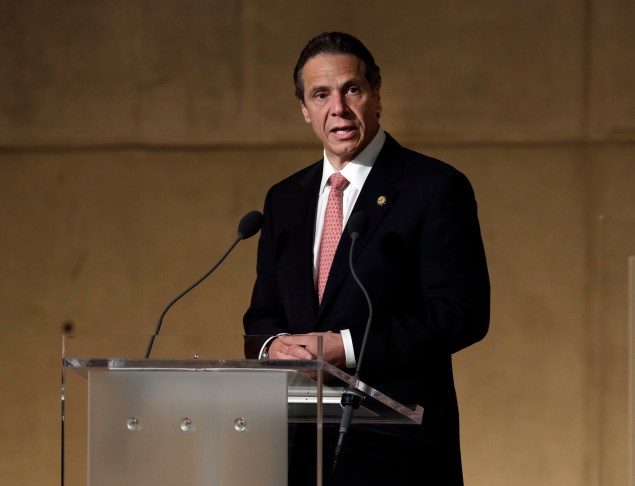 MELVILLE–Gov. Andrew Cuomo accepted his party's nomination to run for re-election today at the State Democratic Party Convention, proclaiming that he had revived New York from a state of political and fiscal crisis and slamming national Republicans for having an "ultra conservative" social agenda.
After being nominated by a host of prominent speakers, including former President Bill Clinton (via video) and Mayor Bill de Blasio (in person), Mr. Cuomo underscored the liberal achievements of his administration, including legalizing same-sex marriage and passing strict gun control measures, apparently pushing back on left-leaning Democrats who have questioned his progressive credentials.
With a flourish, he also emphasized a central theme of the convention: that the Republican Party, in New York and Washington, is a retrograde organization aligned against minorities and women.
"There are night and day differences between what we believe and what they believe and that's why this election is so important," said Mr. Cuomo to the crowd gathered in Long Island. "Their view is an ultra conservative social agenda that sees society through a lens of fear and division."
"Our view sees society through a lens of optimism and inclusion," he continued. "They see government as a vehicle for corporate opportunity. We see government as a vehicle for individual opportunity."
Punctuated by cheers and shrill whistles, Mr. Cuomo's remarks touted his economic record, pointing to the new jobs created under his watch and the minimum wage he was able to modestly boost. He never named his Republican opponent, Westchester County Executive Rob Astorino, but made clear his more liberal social views would be a defining theme of the campaign. (Pro-choice advocates were even permitted to pass out pink stickers in the hotel lobby before Mr. Cuomo's speech.)
Still, Mr. Cuomo did not hide from the totality of his record. He celebrated recent corporate and income tax cuts, knocked by liberals, that he ushered in as governor, insisting that a "good government" is better than a "big government."
"Democrats never wanted big government, we wanted good government that served people and helped people," he said. "The Democratic Party is about providing a government that creates jobs and advances justice and that's what we gave the people of this state."
At the carefully-choreographed convention there was little evidence of the liberal wing of the party's dissatisfaction with the governor. Though he has tolerated a power-sharing agreement in the State Senate between a faction of breakaway Democrats and Republicans, State Senate Minority Leader Andrea Stewart-Cousins and Assembly Speaker Sheldon Silver, who earlier in the day had vowed a Democratic takeover of the senate, lavished praise.
And prominent labor leaders like George Gresham and Chris Shelton stood up to formally nominate Mr. Cuomo, a seeming rebuke of the labor-backed Working Families Party's ongoing deliberations about whether to support a protest candidate against Mr. Cuomo–who stressed a desire for inclusion.
"We don't care where you come from or the color of your skin or how much money you have in your pocket, we will work with you and invest with you because we want you to do well," Mr. Cuomo said.
"We are one," he added loudly.