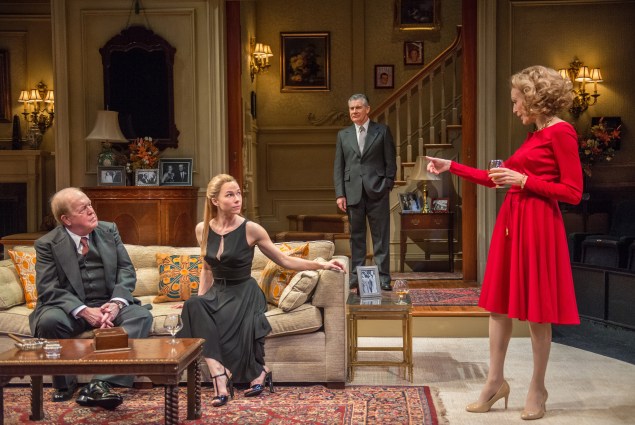 The stages at Lincoln Center are bustling with success. To the droll, admirably staged, dramatically revealing and entertaining material in Moss Hart's autobiographical Act One, at the Vivian Beaumont, we can now add a splendid new play about behind-the-scenes power in the drawing rooms of an influential social doyenne in Washington, D.C., over three controversial decades. The City of Conversation, at the Mitzi Newhouse, follows the triumphs and failures of three presidential administrations in the White House, from Jimmy Carter in 1979 through the second term of the Ronald Reagan presidency in 1987 to the Barack Obama inauguration in 2009. It is chock full of facts, public information and personal revelation, but the play is its own reward. I found it as mesmerizing as a coveted election night invitation by the winning team.
Intelligently written by Anthony Giardina and impeccably directed by Doug Hughes, it takes place in a magnificently designed (by the great John Lee Beatty) Georgetown townhouse owned by one of the most influential hostesses in Washington history. The "city of conversation" is what Henry James used to call the nation's capital. The term still applies. Careers rise and fall on words—gossip at the best dinner parties, heated campus debates at Georgetown University, sound bites on Meet the Press. This play has nuance dashed from a pepper shaker of political purpose over a menu of ambition, seen through the eyes—and defined by the actions—of one Hester Ferris (played to biased perfection by a blazing Jan Maxwell). Hester is a powerful woman in red taffeta, loosely and discreetly modeled after former Washington Post publisher Katherine Graham, who presided informally over generations of presidents like an iron butterfly. As one observer of the Washington scene observes in a reminiscence of the Kay Graham days in the Playbill, if you were lucky enough to be invited to one of her carefully motivated dinners, you went when summoned, unless you were deathly ill, out of the country or out of your mind. A chronicle of her influence would make a great evening in the theater, but this one goes further, fictionalizing her life without aborting her indisputable force and while examining the heartbreaking personal havoc the high price of political ideals can wreak on family life.       
When the play begins, Hester's son, Colin (Michael Simpson), arrives with a new girlfriend he met as a fellow student at the London School of Economics. In Anna (Kristen Bush), Hester meets her match—an opinionated, obstinate and decidedly partisan right-wing Republican whose conservative views clash with Hester's Democratic liberalism. (Think Hillary Clinton, trapped into serving tea to Ann Coulter.) In no time, she's dressing Anna, insisting Colin get a haircut and rudely telling them how to behave during her dinner for a Kentucky senator to further the career of her married lover. They rant about whether Ted Kennedy can get the black vote away from a cracker like Jimmy Carter, while Anna speaks out against elitism, her contempt for the Democrats and her passion for Reaganism.
Trapped in the middle of changing political ideals, Hester is flustered—but only temporarily. After seven years of President Reagan, when Colin, now a radical conservative, takes a stand against abortion and daughter-in-law Anna waxes ecstatic over Oliver North, Hester defends the rights of blacks, gays and women, finally alienating her own family by using her influence over the Senate to defeat Mr. Reagan's nomination of conservative judge Robert Bork to the U.S. Supreme Court—an action that destroys her relationship with the grandchild she adores and estranges her from Colin and Anna, who never speak to her again. The play is about the devastating toll politics can have on members of the same polarized family. 
I was always told the two topics to avoid at the dinner table are religion and politics. This is an intense, emotionally involving, three-dimensional dossier on the kind of mover and shaker who avoids nothing and tries, in the process, to change the world without breaking a single heart, defending ideas and losing people she loves along the way. Director Doug Hughes' job is to distill layered performances from a variety of skilled actors, each making significant contributions as characters with disparate ideals—a goal he achieves beautifully. Well served by an unconditionally flawless cast, The City of Conversation gives you so many things to think about, so many issues to debate and so much theatrical sirloin to chew that you go away sated.