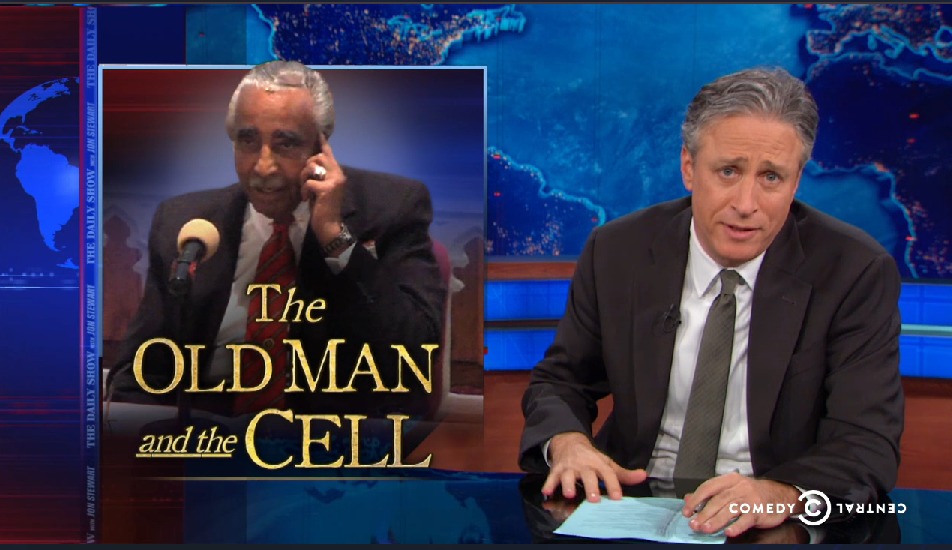 In a segment he labeled "The Old Man and the Cell," The Daily Show's Jon Stewart mercilessly mocked Congressman Charlie Rangel last night for a pretend phone call he made during a debate earlier this week.
"Eighty-three years old and 43 years in office. Censured by Congress in 2010 after a photo of him asleep in front of his Dominican villa, on which he failed to pay taxes, became the symbol of his extensive financial malfeasance," began Mr. Stewart in a bit aimed at the difficulties of booting long-time incumbents from office.
Mr. Rangel is locked in what many see as the toughest fight of his political life as he battles State Senator Adriano Espaillat, who almost defeated him two years ago, and Pastor Mike Walrond, to win a 23rd and final term.
"What could Rangel do to come out a winner? Check your pockets, MacGyver because the clock is ticking and he's got to come up with something!" the host joked.
Mr. Stewart proceeded to play clips from the unusual debate gag, which Mr. Espaillat yesterday slammed as "wacky" and "an embarrassment."
"You know what? I think this is how Charlie Rangel stays in office so long," Mr. Stewart offered. "Yes, he's corrupt. But he's very likable. I mean, he figured out how to be a total dick to the guys sitting right next to him, without having to have any responsibility for said dickishness"
He then pointed to John Conyers, the longtime Michigan congressman, who failed to collect enough signatures to appear on the state's Democratic primary ballot. "Wow, so without term limits, we just have to wait until congress people get so old they lose signatures like keys," he quipped.
Watch the full segment below: