Late Show host David Letterman isn't quite sure what to make of this week's memorable State Senate debate over a bill to make yogurt the official snack of the Empire State.
"Here's a new segment, ladies and gentlemen. You know how you have states and they have their own state legislatures? They get together … [and] they pretend like they're doing things for the state. We don't pay much attention to them until there's trouble," began Mr. Letterman.
"Here in New York, there's something that was called to my attention," the late-night comedian continued, "and we put together a segment called … 'New York State: Your Tax Dollars At Work."
He proceeded to play footage of the State Senate debate on the yogurt issue, which included a discussion of other possible official snack food items–cheese cake, cashews, carrot cookies and the like–as well as even more existential questions about the meaning of the word "snack."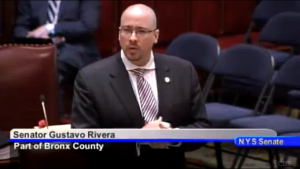 "What exactly are we defining as a snack?" asks State Senator Gustavo Rivera in the clip.
"You have breakfast, lunch and dinner. And then you have snacks," answers State Senator Michael Ranzenhofer, the bill's sponsor.
"What if the pretzel … was dipped in yogurt?" Mr. Rivera inquires.
"Yogurt would be the state snack; the pretzel would not," replies Mr. Ranzenhofer.
The Senate ultimately voted 52-to-8 in favor of yogurt despite the push-back on the chamber floor.
Watch the segment below. The yogurt jokes begin about 3 minutes and 30 seconds in:
[protected-iframe id="e3ceb9c8b9e10bd07365cdc34498a7bd-35584880-35146502″ info="http://can.cbs.com/thunder/player/chrome/canplayer.swf?pid=lbF6BeLJ5X3Y&partner=cbs&gen=1″ width="480″ height="270″]