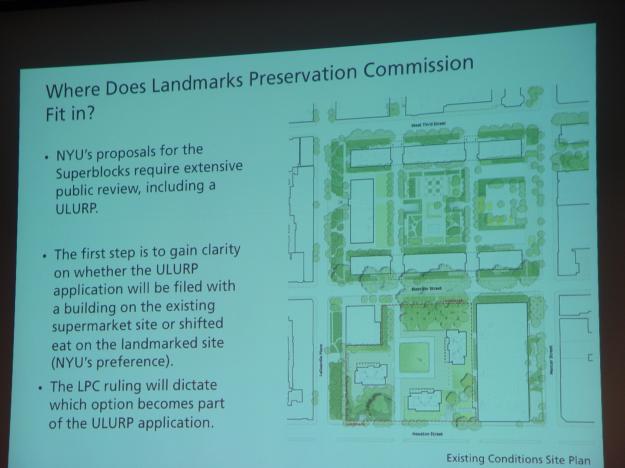 Mayor Bill de Blasio has nominated Meenakshi Srinivan to server as the next chair of the Landmarks Preservation Commission, his office announced this afternoon.
Ms. Srinivasan, a trained architect and urban planner, currently serves as the chair and commissioner of the Board of Standards and Appeals, which oversees zoning variances.
She previously worked for the Department of City Planning, where she lead projects including rezonings in East and Central Harlem.
LPC is responsible for granting landmark status to city buildings and determining what kinds of modifications can be made to those that are. The commission was criticized by some in the Bloomberg administration both for hampering development by creating dozens of new historic districts, and for not moving aggressively enough to save buildings slated for demolition.
The appointment, which must be approved by the City Council, was first reported by the Wall Street Journal.
Read the city's release below:
MAYOR DE BLASIO NOMINATES MEENAKSHI SRINIVASAN AS NEW CHAIR OF THE LANDMARKS PRESERVATION COMMISSION

NEW YORK–Today Mayor Bill de Blasio announced his nomination of Meenakshi Srinivasan as the chair of the Landmarks Preservation Commission (LPC). Srinivasan brings a wealth of experience in city planning and a deep understanding of New York City's land use policies to the position. Her nomination will be sent to the City Council.

If confirmed, Srinivasan will lead the Commission as it safeguards architecturally, historically, and culturally significant buildings while ensuring the city can continue to grow and evolve. The Commission oversees thousands of sites across the city, ranging from specific aspects of individual buildings to entire historic districts.

"Meenakshi knows our neighborhoods inside and out. She has an incomparable grasp of the land use process and the city's architectural landscape. She has exactly the skills and the values needed to protect our heritage as New York City grows and develops to meet the needs of our people," said Mayor Bill de Blasio.

"It would be a tremendous honor to be trusted with helping protect New York City's heritage as we build a city for this century. Our landmarks are living parts of this city. I look forward to working with architects, building owners and communities to find new ways to preserve our historic assets, while simultaneously helping our city grow and evolve," said Landmarks Preservation Commission Chair-Designate Meenakshi Srinivasan.

"Meenakshi is a terrific choice for the role as Chair of the LPC. She transformed the Board of Standards and Appeals into an efficient and principled body that considered and understood the complexities of land-use, construction and development within the context of the surrounding community. I am confident that her urban planning expertise will be invaluable to the Landmarks Preservation Commission and will add an important layer to the understanding of the protection of  the character of the city's historic districts and structures while addressing the needs of our evolving neighborhoods," said, Landmarks Preservation Commissioner Margery Perlmutter.

"This is a stellar appointment. Srinivasan's experience as an architect, a city planner, and head of the BSA make her uniquely qualified to serve as Chair of the LPC," said former Landmarks Preservation Commission Chair Jennifer Raab.

"Mayor de Blasio has chosen wisely in appointing Meenakshi Srinivasan as Chair of the Landmarks Preservation Commission. Her background as an urban planner and her experience both within and outside of city government give her a unique perspective in not only safeguarding our city's heritage, but also anticipating the landmarks of the future," said Rick Bell, Executive Director of the American Institute of Architects, NY Chapter.

"Meenakshi Srinivasan is an inspired choice. With years of leadership experience as a dedicated public servant, she will deploy her considerable land use and design skills, her keen political wisdom, and her deep convictions towards social justice to protect our true landmarks, all while understanding the need for our city to evolve and grow," said Vishaan Chakrabarti, Professor of Architecture at Columbia University.

About Meenakshi Srinivasan:

 Meenakshi Srinivasan is a planner and urban designer, with longstanding commitment to public service. She has more than two decades of experience working in various aspects of New York City's land use process. Since 2004, she has served as the chair and commissioner of the Board of Standards and Appeals, which oversees zoning variance and special permit applications. During her tenure, she oversaw a major overhaul of the agency, bringing greater professionalism and rigor, streamlining its rules and practices, and increasing its transparency.

Previously, Srinivasan worked for the Manhattan Office of the Department of City Planning in various capacities, including as deputy director, team leader and project manager. She led some of the agency's highest profile projects, from the Theatre Subdistrict Rezoning in midtown to the contextual rezonings of East and Central Harlem. She directed planning for major cultural projects including the Museum of African Art.

An architect by training, Srinivasan was born in India and holds a Bachelor of Architecture from the School of Planning and Architecture in New Delhi, India. She earned a Master of Architecture and a Master of City Planning from the University of Pennsylvania. She is an honoree of the Society of Indo-American Engineers and Architects and the New York Society of Architects.