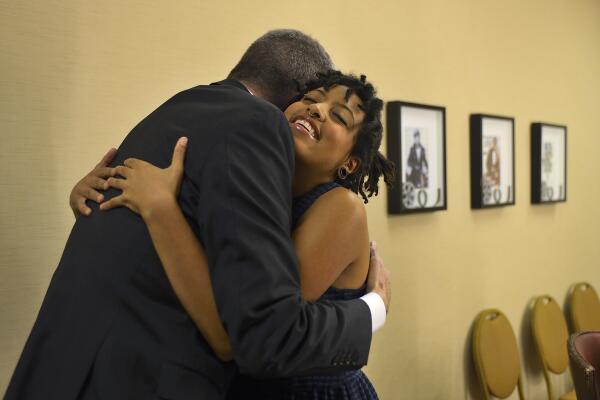 Mayor Bill de Blasio's college-aged daughter, Chiara, accepted an award in Washington, D.C. today for opening up about her struggles with substance addiction and other mental health issues.
In a video released at the end of last year, after her father's election, Ms. de Blasio acknowledged suffering from clinical depression as well as alcohol and drug abuse problems. Today, the 19-year-old de Blasio said she "could not have imagined that I would be standing before you today" as she received a "special recognition award" for inspiring other young adults.
"This award is truly an honor and a blessing. But the truth is: No award or achievement will mark the end of my personal battles with addiction and mental illness," Ms. de Blasio said after being introduced by outgoing Health and Human Services Secretary Kathleen Sebelius for the launch of National Children's Mental Health Awareness Day.
One year ago–as her father's mayoral campaign was ramping up to full speed ahead of the Democratic primary–Ms. de Blasio said she was "overpowered by depression, anxiety, addiction and fear."
Today, she said, everything had changed.
"Today I am grateful and overjoyed. One year ago, I could not have imagined that I would be standing before you today as a sober and healthy young woman. One year ago I was lost, confused and overpowered by depression, anxiety, addiction and fear. One year ago, life didn't seem worthwhile. One year later here I am. And that is nothing other than a miracle," she said.
Ms. de Blasio, who appeared in several of her father's campaign ads, also discussed her personal struggles in an XoJane article published today. "Because, as you see, for my entire adolescence, I was miserable," Ms. de Blasio wrote. "But as I always say, the most beautiful things come out of pain. And so long as I'm trying to create a beautiful life, I'm in a better place than I was before."
In her Washington speech, Ms. de Blasio also offered extensive praise to her family.
"If not for other people I wouldn't have made it to where I am today. So thank you dad. Even while running the biggest city in America you still give me more love and support than I could ask for. And thank you mom for your patience and your endless dedication to helping me get beter. Thank you Dante, you're the best little brother in the world and this is the only time that you will catch me saying so. Thank you to mental health professionals everywhere," she said.
Mr. de Blasio and his wife, Chirlane McCray, returned the praise–in person and on Twitter.
"Couldn't be prouder of my daughter," the mayor said.
"Incredibly proud of Chiara today — she found the strength to help herself," wrote Ms. McCray, "and also to help others."