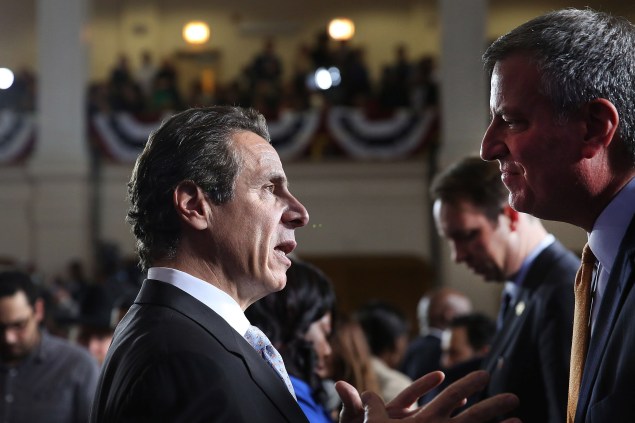 Mayor Bill de Blasio delivered a stinging rebuke of the Republican Party and offered  "personal testimony" hailing Gov. Andrew Cuomo, before formally nominating the governor for re-election at the New York State Democratic Convention earlier today.
Speaking to whistling and cheering Democrats from across the state, Mr. de Blasio at times took on the cadence of a preacher as he delivered one of his most partisan and biting speeches to date.
"Now apparently there is another leading brand called the Republican  party," Mr. de Blasio said with condescension, mid-way through his remarks at the Hilton Long Island in Melville, New York, drawing loud boos from the crowd. "I think we should do a little compare and contrast, don't you?"
He proceeded to run through the list of key areas where he said the two parties differed, beginning with women's equality.
"Democrats are clearly for it," he declared. "I know what you're saying: Everyone must be acting with everything they've got for women's equality. That must be a given, right? No, the Republicans don't stand up and help us when we fight for women's equality. They want us to remain backwards, and we won't accept it. The Democrats will lead us forward."
On guns, Mr. de Blasio applauded Democrats for pushing forward with new, controversial gun control legislation after the Newtown tragedy. "Republicans are sworn and pledged to take us backwards, to remove even the small progress that we have made to protect ourselves," he said.
Mr. de Blasio, who has sparred repeatedly with Mr. Cuomo in his first months in office over issues like pre-K and charter schools, went on to deliver "a personal testimony" commending the governor and what he touted as a deeply progressive agenda. Mr. Cuomo has faced mounting criticism from the left over what many see as a move to the right as he works to bolster his national profile, including a push for tax cuts in his most recent budget. The anger has gotten so deep that the labor-backed Working Families Party is currently considering putting its weight behind another candidate.
But Mr. de Blasio, who has emerged as a national symbol for the progressive movement, offered Mr. Cuomo–for whom he worked for at the U.S. Department of Housing and Urban Development in the Clinton administration–his full-fledged support.
"I've known the governor almost 20 years and I saw time and time again: he cared about the issues a lot of other people didn't care about," vouched Mr. de Blasio, citing the governor's work combating homelessness at HUD.
"Time and time again he was challenged by those at that time, the Republicans in Congress, who wanted to stop so many of the efforts of progress.  And he stared them down time and time again," said the mayor. "No matter what's thrown at him, he stuck to his guns and persevered. … That is what we Democrats rely on in our leaders. That's what a true leader does."
Mr. de Blasio also hailed the Democratic party, arguing that it–like the governor–has now proven that Democrats not only hold the right ideals, but can get things done, providing a model for the nation.
"It's a great time for the Democratic Party because we're producing results that connect with our philosophy, our values, with our progressive core," he said. "The people demand of us real results and we're showing them that this time, that Democrats are able to deliver time and time again for the good of the people of this state."
"And we are showing the nation how things should be done," he said.