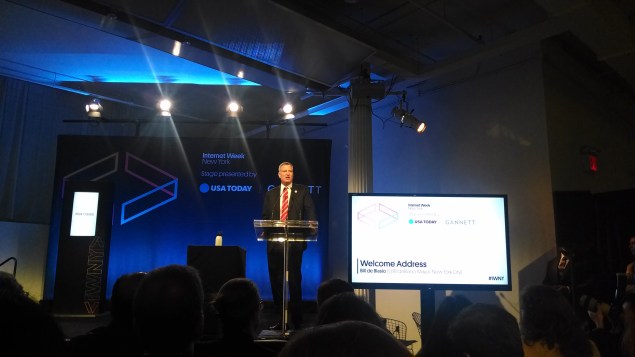 Mayor Bill de Blasio this morning committed to expanding broadband access across the city, arguing that affordable, high-speed Internet is crucial–not only to the city's growing tech sector, but to tackling economic inequality.
"Our approach is going to be bold and it's going to be decisive, because we simply haven't done well enough in this city," Mr. de Blasio said during an Internet Week keynote address to members of the tech community. "The goal is quite simple: We must have universal, affordable, high-speed Internet access throughout this city. It's as simple as that. And broadband's essential for everything this community needs to do. It's essential for everything we need to do to be a fair and just city. Because we can't continue to have a digital divide that holds back so many of our citizens."
"In a vibrant Democracy, it all runs through broadband access," he stressed.
To achieve that goal, he said the city would establish a broadband task force, begin to push for "desperately needed" competition in the industry, as well as re-examine the city's franchise agreements with companies including Verizon Fios and Time Warner Cable "to hold them accountable for providing the kind of service they're obligated to."
He also touted the city's plans to transform up to 10,000 pay phones into Internet Hotspots and the growing Harlem WiFi network–the largest, continuous free public WiFi network in the nation. The project, announced by former Mayor Michael Bloomberg back in December, 2013, aims to cover 95 blocks, connecting nearly 80,000 residents, according to the city, and will serve as "a great model for us going forward," the mayor said.
Mr. de Blasio went on to run through his campaign agenda, including creating a municipal ID card, his Vision Zero traffic plan that aims to eliminate pedestrian traffic fatalities, and new investments in education, including universal pre-K–all of which he argued would make the city a more attractive place for tech workers. And he stressed the commonalities between the tech industry and his administration, trying to draw connections between entrepreneurial ventures and his focus on progressive change.
"There is a synergy, there is a commonality. We are change agents in our administration. You are change agents in he private sector," he told them. "There's so much we have in common and that gives us a special excitement about the opportunity to work with this community … What you do in technology, we try to do in government in our own way …  We think there's a purer synergy here that we need to act on."
And while he vowed to help the industry, he also celebrated the 291,000 jobs it has already brought to the city, according to one recent study released by the Association for a Better New York that categorized tech jobs very broadly.
"Look, what's happening here is extraordinary! In a very short time in the scheme of things, this community, this sector, has risen to extraordinary importance in this city. Now we're very proud to say that New York City is the second-largest tech center in the United States of America–and growing. And we are intent on amplifying that growth," he said. "We think, bluntly, we've only just begun in New York City in terms of developing this sector."