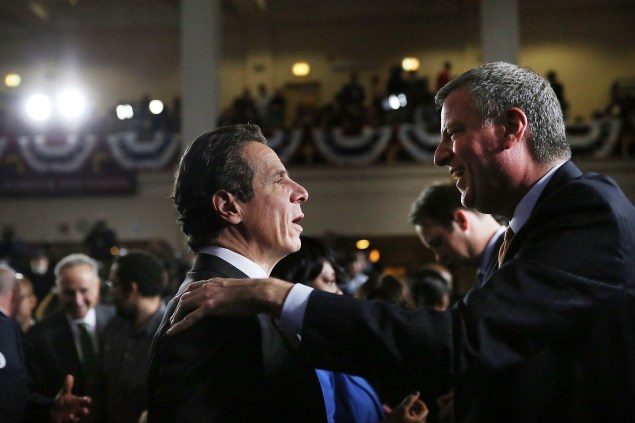 Mayor Bill de Blasio today urged the left-leaning Working Families Party to endorse Gov. Andrew Cuomo–a reversal from his remarks earlier this week.
Taking questions at the opening of a new asphalt plant in Brooklyn, the mayor encouraged the WFP, which he helped found, to back Mr. Cuomo, his former boss.
"I want to state: I am supporting the governor and I'm going to be working hard for the governor and doing everything I can to help him. You know, I talked about this the other day. The WFP has its own process. And I'm not a member of the WFP. I respect that they have their own process. But if they asked my advice, I would say to them, clearly they should endorse Governor Cuomo," said the mayor.
He went on to tout the governor's record and argued that Mr. Cuomo's actions and the party's values largely align.
"I think there's so many areas where the governor's made progress for this state that align clearly to a lot of the values of the WFP as well. And I think the historic achievements in areas like gun control and same-sex marriage… bringing a stronger government to the state, making the government work better for the people in this state–all of that aligns to the WFP's values," he continued.
"So my hope is that they will endorse him," he added. "But I respect that they go through a pretty elaborate process. But at the end of the day, if they seek my advice, I'll certainly say to them: I think it makes sense to endorse Governor Cuomo."
Mr. de Blasio's remarks were a stark reversal from just two days ago, when the mayor said that–while he was endorsing the governor–it was up to the WFP's members to make up their own minds.
"You know, I don't get into the intricacies of what the Working Families Party does," he said then.
"I obviously will be supporting Governor Cuomo for re-election," he added. "But I think the WFP has, as you know, a very substantial membership and a complicated leadership system, and you know, I leave it to them to make those decisions."
Left-leaning Democrats have grown increasingly frustrated over some of the governor's more moderate policies, including this year's budget's focus on tax cuts and its inclusion of what many see as watered-down versions of campaign finance reforms. Members of the WFP remain split over whether to back Mr. Cuomo, as they did four years ago, or send a signal by endorsing a more left-leaning candidate.
The first months of Mr. de Blasio's administration have been marked with frequent spats with the governor, but the two have made extensive efforts to appear close friends in public.
A WFP spokesman declined to comment on the mayor's remarks.