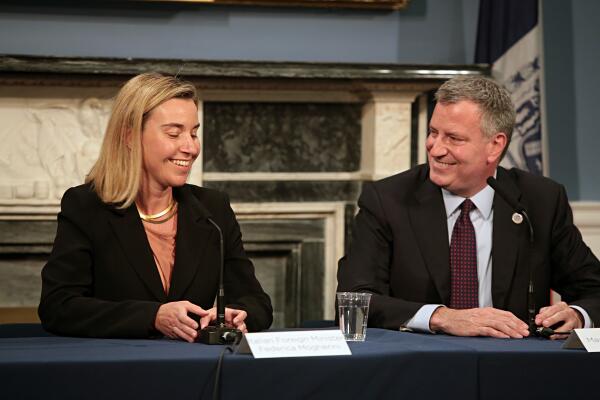 Mayor Bill de Blasio, who frequently touts his Italian-American heritage, hosted a roundtable with members of the Italian media today, where he affirmed his commitment to his ancestral homeland and was asked whether he would consider getting involved in Italy's upcoming elections.
"I am committed to using everything I have to invest in Italy," declared Mr. de Blasio early on, proudly pointing to his Italian Corneliani suit and Naples-made tie to illustrate his point.
Later, he argued that all Italian-Americans should feel an obligation to their ancestral homelands and doubled down on his commitment. "If there's anything we can do, my simple message to the leadership of the Italian Republic is: we should be at your disposal to help. And I don't presume what is the best way to help, I only know that it's important to make ourselves available if we can help."
Just what kind of help the mayor had in mind, however, seemed to be an open question. One journalists described the mayor's popularity in Italy–where figurines were made in his likeness during the mayor's race–and wondered whether he might want to leverage that to assist in upcoming elections.
"Mr. Mayor, you are, I will say, probably the American politician most popular today in Italy–even more than President Obama," said the journalist, who went on to compare Mr. de Blasio to one of his heroes: Fiorello LaGuardia, another Italian-American mayor.
"That brings a lot of responsibly," the journalist went on, explaining that, after the war, when "Italy was starving," Mr. LaGuardia sent the nation food. (After World War II, Mr. LaGuardia served as director-general of the United Nations Relief and Rehabilitation Administration, delivering food to the region as part of a larger rebuilding effort.)
"In a week there are the elections … Your popularity I'm sure can help a lot this government a lot in this moment .. Do you think about it? Would you think it is a good thing to help this new government?" he asked. The European Parliament elections will be held next week.
Mr. de Blasio, sensing the prickliness of the situation, cautiously backpedaled, clarifying that when he'd spoken about helping Italy, he was talking  more in terms of sharing policy ideas and working together to address global issue like growing income inequality.
"I appreciate your characterization. I'm too humbled to accept it, but it's very kind," said the mayor. "No, I think the reality here is my offer is in the sense of a proud Italian-American who want to in any way I can help the progress of Italy … It's not political or partisan in that sense. It's more about governing and trying to move the discussion towards the kinds of changes we have to make for all of us."
"In terms of any electoral dynamics," he added, "obviously it's not the place of any American to be involved in any other country's electoral situation."
Accompanying Mr. de Blasio at the head of the table was Italian Foreign Minister Federica Mogherini, who met with Mr. de Blasio in a closed-door meeting before the roundtable. The pair described their meeting as productive, with the discussion touching on common challenges between the city and country, including economic inequality, and young people's pessimism with governments and institutions.
Ms. Mogherini described the city's diversity as a model for Italy and praised the mayor as an object of national pride.
"Obviously you were not the first Italian-American mayor of New York, but I think I'm not wrong if I say you have been probably the one that has stressed your being Italian," she told him. "You' have been the one that has stressed this routes more than others. And we are proud for that. And I thank you very much for that."
As for the mayor's promise to work more closely together, she said she would be following up to make that a reality.
"We will take advantage of this availability and work out an intense work plan in order to make it more concrete in the next months" she said. "Don't be scared," she told the mayor, "but some concrete proposals are coming up."
Mr. de Blasio has been more willing than his predecessor to weigh in on matters of foreign policy far outside City Hall's jurisdiction, answering questions on the recent crisis in Ukraine and Israel's standing in the Middle East.