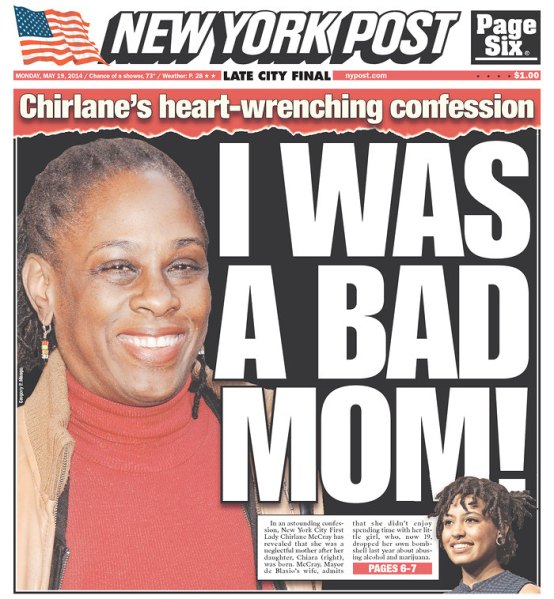 Mayor Bill de Blasio this afternoon slammed the city's tabloids for their treatment of his wife's comments on the challenges of motherhood, calling the coverage "disturbing" and asking both papers to apologize.
"The whole situation of how the newspapers have handled this is very disturbing and inappropriate," said the mayor, speaking to reporters after an official bill signing ceremony at City Hall.
In a lengthy cover story in this week's New York magazine, Mr. de Blasio's wife, Chirlane McCray, opened up about some of the difficulties she faced adjusting to motherhood after her daughter Chiara was born.
"I was 40 years old. I had a life. Especially with Chiara—will we feel guilt forever more? Of course, yes. But the truth is, I could not spend every day with her," she told the magazine. "I didn't want to do that. I looked for all kinds of reason not to do it. … It took a long time for me to get into 'I'm taking care of kids,' and what that means."
The New York Post zeroed in on the passage, slapping the story on its wood under the headline "I WAS A BAD MOM!"
"New York City's first lady, Chirlane McCray, didn't much care for her new role as a mother after daughter Chiara was born — and looked for any excuse to keep away from her little girl," the tabloid charged. "In a startlingly frank confession, Mayor de Blasio's wife says she was unable to embrace motherhood and initially neglected Chiara, who last year dropped the bombshell that she was in treatment for abusing booze and pot. … The disclosure — bound to horrify most moms — shatters the carefully crafted image of de Blasio's close-knit family, which helped vault him into office."
The Daily News offered a similar–though less negative take–headlining its story, "Didn't want to be a mom."
The treatment drew criticism on social media, as well as a piece in Brooklyn Magazine slamming the Post story as "disgusting, pathetic, and a new low."
Sounding angry and hurt, Mr. de Blasio slammed both papers for their treatment of his wife's comments.
"It really suggests a tremendous misunderstanding of what it is to be a parent, what it is to be a mother. I love my wife very deeply and she is an extraordinary mother. She always has been. She very much wanted to have children, which is evident in the New York magazine article, if anyone cares to read it and not caricature," he said, heaping praise on her ability to handle intense family pressures.
"I over the years have marveled at her ability to take care of our two kids with such love, while having to do–in the middle of all that–the incredibly difficult work of helping both our mothers as they came to ends of their lives, while oftentimes having to have a full-time job," he said.
The mayor–who put his family front-and-center during his campaign and whose wife is constantly by his side at City Hall–said the papers' treatment was offensive not only to him, but to women across the city.
"I think a lot of women are offended, a lot of hard-working women in this city are offended," he said. "I think both the Post and the Daily News owe Chirlane an apology. I think they owe all of us an apology for absolutely misrepresenting what she said and for caricaturing a reality that I think so many women face."
Representatives for both the Post and Daily News did not immediately respond to requests for comment.