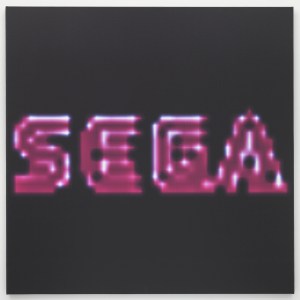 Mark Flood has organized his own art fair dedicated to his work. Insider Art Fair, which opened earlier today, is located at 548 West 22nd Street, conveniently right next door to Mr. Flood's New York dealer, Zach Feuer Gallery. (548 Center, as it's now called, used to be the Manhattan outpost of the Dia Art Foundation and now hosts several art fairs throughout the year.)
Mr. Flood's new work is mostly about the art world that has made him a success—a topic he is both cynical about and complicit in. Many of his pieces depict slightly mutated brand symbols from the likes of AT&T, Verizon, Fox News and Google, serving as both an acknowledgement and disavowal of the corporate clusterfuck that has come to define the programming at most art fairs, not to mention museums. A good deal of his canvases take the form of punch lines: "Give the economy a real good blow job," "Another Painting" or, as was hung on the wall by the entrance, "Career Suicide" with an arrow pointing to the rest of the show.
Or, rather, the rest of the fair. The best and worst thing about Insider Art Fair is how clearly it demonstrates the thin, blurry line separating an art fair—the market equivalent of a fire sale—and a serious exhibition. So many contemporary art exhibitions in galleries in Chelsea and elsewhere feel suspiciously like an excuse to meet overhead costs, and so many dealers present their art fair booths as a more or less scholarly exhibition despite trying to cart everything off over the course of a few days that it's hard to tell which is the bigger pile of bullshit. Mr. Flood milks the rhetorical hyperbole inherent in both models in the text for his very professionally printed catalogue [sic throughout]: "The Insider Art Fair! is a three day, island-wide, art festival focused into Zach Feuer Annex. It is a celebration of the many artists, galleries, boutiques, restaurants, and art-focused emporiums." Well, no. It's a celebration of Mark Flood, by Mark Flood. This is either a message about the solipsism masquerading as progress that goes hand in hand with anything relating to capital, or it's just another joke.
Don't get me wrong, the art world deserves to be mocked. It has less self-awareness than a jellyfish. More and more, contemporary art is not for anyone but a select group of very wealthy individuals who can afford to own a stake in it. The problem is, this argument has become so repetitive, and to no end, that it's boring even to the people who get paid to make it. I'm not sure how productive Mr. Flood is for simply poking fun at the situation, especially when everything is still available to purchase.
Insider Art Fair is not without charm, though, and neither is Mr. Flood, who was sitting in a chair Tuesday afternoon surrounded by his work, wearing something very close to a Hawaiian shirt and speaking in a slow Texas drawl. He agreed to answer some questions. "All the roles are breaking down," he said. "The collectors are curators, the museums are auction houses. I went to Frieze. I don't have any problems with art fairs. For me, the fundamental issue as an artist at a fair is you don't get to control the context of the work. Artists will have to take control, like always."
So this is something of a model for the future then. Mr. Flood, with the help of his gallery and assistants ("I have a vast entourage I travel with and whose bills I pay") designed booths to display the art, just like at any fair, but most were draped with fabric—one of them had a noose hanging from a curtain rod—and each had a mattress covered in rumpled bedding resting on the floor. This, Mr. Flood said, was meant to recall a different kind of booth from the days of old–the one you'd find in sex shops and smut stores.
He added that "people are going crazy for my lace paintings," which, to quote a certain gallery press release, if only to give more of a sense of the people Mr. Flood has to deal with, are "willfully beautiful canvases luridly coloured and richly patterned with impressions of decorative lace."
"So we're gonna drag them on a rope and have people run after them," Mr. Flood said. He instructed an assistant to do just that. "They'll have knee pads. Hey Jeff! Can you pull out the knee pads? I want people crawling around." A few months ago, at Phillips auction house in London, one of those lace paintings set Mr. Flood's current auction record of $132,183, which was nearly triple its pre-sale estimate.
Maybe he was putting me on, but Mr. Flood comes across as a man preoccupied with money, obsessed by what his work sells for and what that means. It's his muse, and also maybe his main anxiety as an artist. ("If this," he said, unprompted, "retards the market for these paintings, so be it.") He is the only subject I've ever interviewed who grilled me on my salary.
"I mean, it's enough," I said.
"So you're a liar," he said.
"I don't know," I said. "You want to know my salary? I can tell you I guess. It's not great. It's not as much as a visual artist." That was the end of that conversation.
I reprint this exchange because it gave me the same feeling of baffled frustration I had walking around Insider Art Fair. My favorite moment came when an art adviser said to a collector, "People are losing their minds for this stuff!" and then snapped a picture of a work that featured a lingerie model with the text "Our Bodies Our Shelves." Mr. Flood is either an inelegant hack or the quintessential figure for an art world that has let itself get bloated by the comforts of money and commercial branding. Whether the joke is on them or on Mr. Flood, I can't say yet. He did sign a copy of the catalogue for me, though, and it felt like a clue: "It's too late for me," the message read, "save yourself!!!"