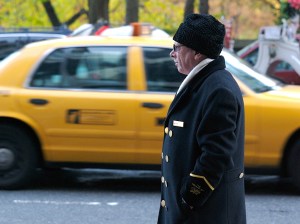 Society matrons across the island of Manhattan can finally breathe a sigh of relief: there is absolutely no chance that they will be forced to open their own doors, receive their own packages, or in the case of more than a few residents in tony uptown co-ops, find their apartment keys anytime in the near future.
The union representing 30,000 of the city's doorman, superintendents, handypeople and porters has ratified its contract with landlords, with an overwhelming majority—98 percent—voting in favor of a deal that will mete out an 11.4 percent raise over the next four years, 32BJ SEIU announced today. The deal will increase doormen salaries from approximately $44,000 to $49,000 by the end of the contract and will also preserve medical and pension benefits.
The member vote locks in a tentative agreement that union leaders reached with the Realty Advisory Board a month ago, on April 11. The new contract will expire in April 2018 and represents a slight increase over the previous contract, which granted a 10 percent raise over 4 years. In years since the last contract was signed, the real estate market has taken a dramatic turn for the better, which seemed to suggest the potential for a larger increase, however in the past the union has seemed to show a preference for modest but reliable increases across contracts, rather than hewing closely to the vicissitudes of the market.
The union hailed the contract as representing a victory for the city's dwindling middle class, allowing building workers to afford to live in the city where they work.
"This contract takes a small step towards reversing the inequality that has spiraled in this city," wrote 32BJ president Hector Figueroa in a statement. "Apartment building workers make New York home for two million tenants, and now it will be a little easier for those hard-working men and women to make New York their home as well."