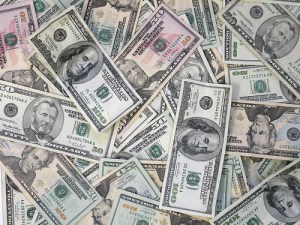 Who knew high schoolers are developing green thumbs?
These New Jersey teens weren't gardening, though. Their ink-jet printer was spewing out counterfeit $20 bills.
After shopping sprees at Dunkin' Donuts, 7-Eleven and the school cafeteria (real villainous, guys), the five high school wannabe-minters were arrested by New Milford police.
The coin artists forgot to change serial numbers on the bills that they designed on a home computer, NBC New York reports. While putting money where their mouth is, the counterfeiters were spotted on the Dunkin' Donuts surveillance video.
The five suspects made about $1,000 in counterfeit cash and are being charged with theft by deception.
We think these kids need to learn some common cents.