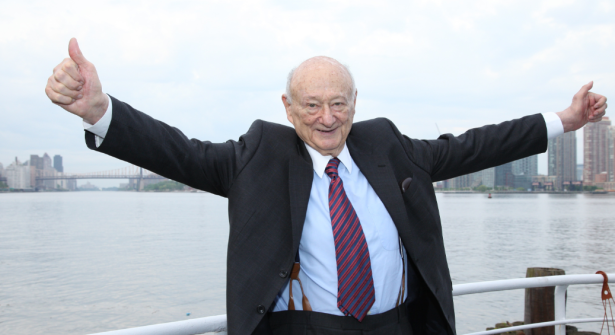 New York Mayor Bill de Blasio's office officially announced the sale of the new ".nyc" domains last week, hyping the release alongside city officials and borough chiefs. But Mr. de Blasio isn't the first New York mayor to take a shot at selling New York on ".nyc."
That honor belongs to the late Ed Koch, who was the champion of New York's digital real estate long before City Hall was on board. In 2009, Mr Koch was hired by DotNYC LLC, one of the first companies who tried to sell the city on having its own domain name.
"Back in 2008, city officials were leaning against creating a '.nyc' web address," Davidson Goldin, the public relations superstar hired by DotNYC, told Betabeat. "Entrepreneurs who'd been behind the .tv address embarked on a long journey to convince the city to allow '.nyc.'"
But as they found, it's not easy to get people revved up about top-level domains.
"My clients realized they needed a pitch man," Mr. Goldin said.
They approached Mr. Koch, who Mr. Goldin knew from his days hosting Inside City Hall for NY1 News, with $25,000 and some equity in the business. The result was this long forgotten treasure:
[youtube http://www.youtube.com/watch?v=u2vW8-9fTqA]
"DotNYC is the best real estate opportunity since the Dutch bought Manhattan," the late former New York mayor says in the video — a line Mr. Goldin proudly wrote himself.
Unfortunately, DotNYC LLC was outbid for the contract, and Mr. Koch's campaign came to an end. Five years later, the ".nyc" domain is finally for sale through Neustar, the subcontractor for the city who handles the domain registrations.
As for how much one of these domains will cost you, Mr. Koch was right on the money — a ".nyc" domain name comes out to around $20 a year, making ".nyc" some of the most reasonably priced New York real estate imaginable.