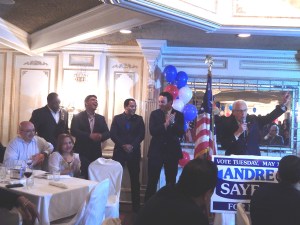 PATERSON – Playing a frontline role in Tuesday's election here, Ward 2 Councilman Mohammed Akhtaruzzaman wants Council President Andre Sayegh to be the next mayor of Paterson.
Visible and active on the campaign trail, Akhtaruzzaman in base-solidification mode could end up playing a factor in a close election with no runoff on Tuesday.
The first Bangladeshi councilman in Paterson, Akhtauruzzaman (standing second from left, above, at a Friday night Sayegh rally) represents a fast-growing community of 15,000 to 20,000 in the Silk City, the vast majority of whom are not registered to vote.
There are, in fact, only 1,700 Bengalis on the voting rolls, 500 of whom the councilman says his campaign helped register in the run-up to his successful 2012 take-down of incumbent Councilman Aslon Goow, Sr.
This time he estimates he helped register an additional 100 voters.
"The credit for my 2012 victory goes to my community, and those other communities who supported me, but if I had to single out any one person to be credited it would be my campaign manager, Henry Sosa," said Akhtaruzzaman.
Sosa now serves as the campaign manager of At-Large Council candidate Maritza Davila, who's running in synchronized fashion with the Sayegh campaign.
An immigrant to this country in 1986, Akhtaruzzaman graduated from Kennedy High School in Paterson.
He acknowledges that his decision to back Sayegh in a mayoral contest among eight candidates and multiple factions and colliding interests sparked push back in certain quarters of his community.
"Many people have made their own friends and picked their own candidates," he said. But the councilman continues a hard for push for Sayegh among Bengalis.
Over the course of this campaign season, along with Ward 5 Councilman Julio Tavarez, Akhtaruzzaman is the most engaged member of the governing body backing Sayegh for mayor.
"It's not only my community, he's best for Paterson," the councilman said of Sayegh. "I've seen his leadership and right now he is the only person who can take the community in the right direction. He's the best educated of the candidates. Remember, the founders of this country were educated men. Education makes the man."
Amid more intense references to political deal-making, Akhtauruzzaman ruled out pursuing the council presidency if Sayegh – who now holds that seat – becomes mayor.
"That's not something I'm interested in right now," said the councilman.
Part of his challenge is to stave off the mayoral candidacy of the man he dethroned two years ago: mayoral candidate Aslon Goow, who's attempting to coalesce those voting members of the Bengali community in Ward 2 who have fallen away from Aktauruzzaman, or who don't approve of his support for Sayegh.
The councilman's up for re-election in 2016 and has motivation to make sure Goow does not use this election to build toward a ward comeback.