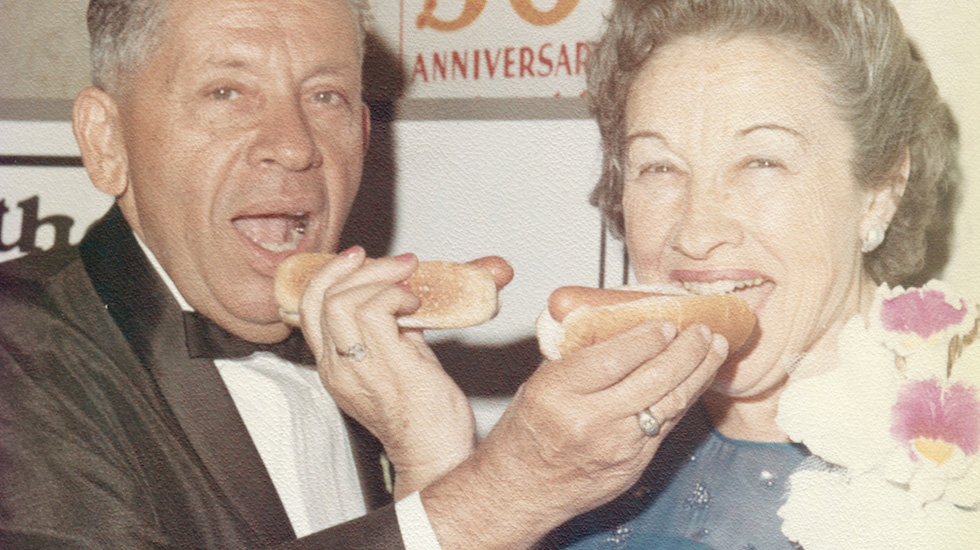 Before Nathan's Famous was a franchise on the level of McDonald's and Burger King, it was a mom-and-pop restaurant in Coney Island.
A new documentary, Famous Nathan, chronicles the rise and fall of the beachside snack stand, with the humble hot dog joint standing in as a symbol for the American dream. Founder Nathan Handwerker's grandson, Lloyd Handwerker, premiered his movie about the family biz at last month's Tribeca Film Festival, almost 100 years after the restaurant opened.
Anyone whose forebears immigrated to New York with only the clothes on their backs will likely see their own family's story told in Famous Nathan. The eponymous founder, a Polish-Jewish refugee, started it on a dare at just 26 years old with a $300 loan from Jimmy Durante and Eddie Cantor, pre-fame, and grew it into one of the most successful businesses in Brooklyn.
In the early days of Nathan's, Coney Island was booming. Footage in the documentary shows hordes of people clamoring for hot dogs, making the daily lines of customers at the 44th Street Shake Shack look like no big deal. Now, the original store still sits at 1310 Surf Ave., but none of the Handwerker family is involved with the business anymore, aside from owning the building that houses that first shop.
Lloyd Handwerker spent 30 years assembling footage and interviews for Famous Nathan. He covers the workplace culture, his grandfather's formidable work ethic, and the problems that plagued the business when Nathan's son and Lloyd's uncle, Murray Handwerker, took it over. Murray opened an office in Times Square and expanded the brand, taking Nathan's international. But it was apparently too much too soon. The Handwerker family had to sell the company in 1987. It's now successful in the eyes of the public and shareholders, but a Nathan's chain restaurant lacks the original restaurant's charm and hustle.
"It's a bit of a tragic story, from my point of view," Mr. Handwerker said in an interview with the Observer. "You go to a [Nathan's] franchise today, the person at the counter turns around slowly… I can't deny it's a different kind of business and not the same level of worker and skill and all the rest."
What's missing from most fast food restaurants now is "a business where you have an owner who's there every day, sampling the hot dog as it comes out of the truck, with workers so skilled they've been there 20 to 40 years and know the business like the back of their hand," Mr. Handwerker said, not to mention the high-quality food served at the original Nathan's. Nothing was frozen at his grandfather's restaurant, Mr. Handwerker said, and the hot dogs were spiced with a proprietary blend created by Nathan's wife, Ida Handwerker.
Nathan's work ethic was borne out of a tough childhood in Poland. He moved away from home at age 11 to work in a bakery in another town and help support his 13 brothers and sisters. He got up at midnight to bake bread, then hit the pavement to sell it daily.
He left Poland with nothing as a teenager. He recounts his story of immigrating to America on an old recording in the middle of Famous Nathan. It's the only time his voice is heard throughout the documentary, and it's the most compelling part of the film. Of his unlikely ability to evade police as he hopped from country to country by train, he says, "Angels covered me up."
"He knew what it was like to go without food, to go hungry," his grandson told us. "He knew what poverty was like. I don't know if he ever forgot about that. His mission was to feed people."
Even when business at Nathan's was booming, Nathan, his wife Ida, and their two sons lived in a two-bedroom apartment in Brighton Beach.
"He wasn't a fancy guy," the younger Mr. Handwerker said. "He wasn't living in Sea Gate."
His main extravagance later in life came in the form of a Florida house, where he spent more and more time as he aged. As he handed the reins of the company to his son Murray, New York City was starting to transform.
Large swaths of second-generation immigrant families — many of them the restaurant's best customers — began moving out to the suburbs. Television became accessible to the average family. Different kinds of night life became popular. Crime rates rose. All of these things caused business on Coney Island to slow down, Mr. Handwerker said.
Having seen so many changes in the business, Mr. Handwerker decided to chronicle the hot dog vendor's colorful history.
"People I wanted to interview were passing away," Mr. Handwerker, who years ago attended the New York University's graduate school of film as a cinematography major, said of his impetus for creating the film. "When I started in the mid-80s in Coney Island, things were dire. It was an incredibly, unbelievably vibrant place in the '50s and before."
Right now, Mr. Handwerker is hopeful that Coney Island is back on an upturn.
"There's growth happening," he said. "Nathan's is enjoying some of its best years down there. There's a new amphitheater being built, a new carousel and boardwalk. It's improving for the better, but it'll never be what it was in the 30s, 40s or 50s."
And elsewhere in Brooklyn, independent restaurants are thriving. Farm-to-table is also making a major resurgence in the borough. This gives hope to Mr. Handwerker, who's lived in Park Slope for 15 years, that Coney Island could be next.
It will be tough for immigrants like his grandfather to start businesses from scratch, though, thanks to rising rents and the proliferation of franchises in the neighborhood. Still, he pointed out, "there are immigrants in every generation who are doing something similar, starting with nothing and working hard and creating something that stands the test of time and lasts forever. I just don't know if it's as easy or as possible today."
Now that Famous Nathan made its NYC premiere, Mr. Handwerker is looking for a distributor and playing the film in other festivals around the country — as well as relaxing after a grueling year of editing. He hopes to write a book about his grandfather, as well, since he still has about 298 hours of interviews to choose from.
"I wanted to remind people why the name Nathan's has this cachet," he said of his continued efforts to document his family history. "It's not just the three things you read in Wikipedia, but a man and a woman and workers who busted their butts many hours a day for many years, providing a great fresh product."