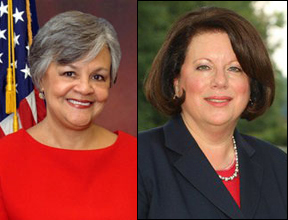 TRENTON – In CD 12 it's as simple as GOTV.
Get out the vote.
Background
Candidates vying for the opportunity to succeed outgoing U.S. Rep. Rush Holt (D-12) are duking it out in a closely-watched Democratic primary. The race produced two clear frontrunners: State Sen. Linda Greenstein and Assemblywoman Bonnie Watson Coleman.
As with any political race, GOTV reigns supreme. However, with polls indicating the top two candidates are running neck-and-neck and a primary win all but clearing the way for the victor moving on to replace Holt in the left-leaning district, congressional hopefuls will need to move their respective bases to the ballot boxes on June 3.
It's a question of numbers.
"There's no question that the candidate who has the party line in that county is going to win that county," said Patrick Murray, director of Monmouth University Polling Institute. "The question is about how much and how many voters they can win out."
According to Monmouth University's latest poll, the race, which also includes Assemblyman Upendra Chivukula and Princeton scientist Andrew Zwicker, is characterized by wide disparities in regional strength for the candidates.
Greenstein has the support of 25 percent of likely Democratic primary voters and Watson Coleman has 24 percent. Chivukula garners 11 percent of the vote and Zwicker has 6 percent, according to the poll. However, 1-in-3 voters (34 percent) were undecided when the poll was released with just over two weeks before the primary election.
CD 12 contains portions of four counties: Mercer, Middlesex, Somerset and Union.
Middlesex County, which has the numbers, is tipped in Greenstein's favor. She has the line and 43 percent of the vote, according to the poll. Chivukula follows with 10 percent, Zwicker with 6 percent and Coleman trailing with 4 percent.
Mercer County, which has the smallest amount of undecided voters, is backing Watson Coleman for Congress. The state lawmaker leads with 42 percent of the vote, followed by Greenstein at 19 percent, Zwicker at 9 percent and Chivukula at 6 percent. Watson Coleman has the line.
In Somerset County, Chivukula has the line and takes 35 percent of the vote, followed by Watson Coleman at 12 percent, Greenstein at 10 percent and Zwicker at 1 percent.
Union County is without a native son or daughter in the race and is "the wild card," Murray said.
"Most of the voters don't know any of these candidates," he said.
Key Dynamics
Nothing is being taken for granted in this race.
"There are a number of different narratives in this election, but it's hard to figure out which one is going to be dominate," said Ben Dworkin, director of the Rebovich Institute for New Jersey Politics.
"One is Mercer versus Middlesex. Middlesex has more people and Mercer has more Democrats," he said, adding, however, "The chairman in Middlesex has gotten some national publicity for using some high end micro targeting program to identify and motivate voters."
Dworkin added, "We'll have to see if that makes a difference."
Both agree Somerset will go to Chivukula, but not deliver nearly enough to clinch a win.
"He's going to do better in Middlesex than Watson Coleman will because it's comprised of some towns he represents, but the [outcome of him being on the ballot] is that it gets Somerset off the map for Greenstein or Watson Coleman," Murray said.
And so it comes down to Union.
"Greenstein's camp is very good at targeting individual voters and Watson Coleman's base is more motivated to get out to vote," said Murray, whose polling data gives Watson Coleman a slight edge in Union's dominate city – Plainfied – at 21 percent and Greenstein at 18 percent (Chivukula garners 10 percent of the vote and Zwicker's at 1 percent).
Strategy
Watson Coleman's camp is banking on Plainfield support to drive her over the edge toward victory. Plainfield has competitive races and the candidates on either side back Watson Coleman.
They expect to do "exceptional well" in Mercer County and could also pickoff areas of Somerset County that is home to a Baptist church whose pastor has Trenton roots.
Meanwhile, Greenstein's camp is hoping to maximize on Middlesex while picking up voters from Mercer where Greenstein's legislative district overlaps, including places like Highstown and East Widsor. Additionally, a large chunk of Mercer's votes – Trenton – are focused on a mayoral election, insiders argued. With only about 28 percent of Trenton voters already having cast their ballot for a mayor three weeks before the election (which included six candidates on the ballot), some say it's unlikely many people will return to the polls.
Not to mention, many are focused on the upcoming Trenton runoff election.
"There's two elections going on in Trenton right now and all the stuff on the ground is the mayoral stuff," said one Democratic insider.
Lastly, most of Watson Coleman's endorsements are coming from outside of the district, and unless they're have been accompanied by lucrative donations, the endorsements won't stack up.