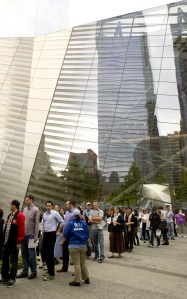 It was no gouda.
After week of PR nightmares, the museum has pulled a highly offensive and tasteless cheese plate from display, The Wall Street Journal reported.
Shaped like the United States, the cheese plate indicates to snackers where the planes struck, with three small hearts marking the locations where the hijackers crashed 13 years ago.
The gift shop is full of only slightly less controversial items like plush search and rescue dogs and star spangled scarves.
"This is a good reminder that as much 'success' as we've had…we have to remember that the sensitivity around 9/11 is so high," Joe Daniels, president of the memorial foundation, told The Journal.
From now on, gift shop items will be vetted by victims' families who sit on the museum foundation's board, Mr. Daniels said. The proceeds from the gift shop go towards museum operation.
With no terrorist-attack commemorating cheese platter, looks like tactless tourists will be stuck with plastic memorial bracelets. What a travesty?