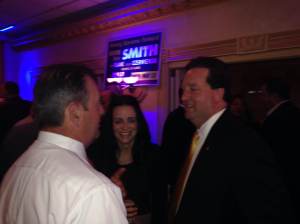 Former Third Ward Councilman Ben Costanza today announced his support for Mayor Mark Smith and his entire team in the June 10th Runoff Election.
"As a real estate broker, I know first hand the beneficial effect that Mayor Smith's policies have had on our property values," said Costanza, "Mayor Smith's fiscal responsibility lets developers know we are serious about encouraging investment in Bayonne." Costanza also pointed to this years' Zero Tax Increase Budget as an important reason to back Smith. "Mayor Smith has been focused on achieving a zero tax increase budget because he's concerned about our citizens," said Costanza, "he's delivering for us and he deserves to be re-elected on June 10."
Costanza was elected as the city's third ward councilman on Mayor Dennis Collins' slate in 1986.
"Now is not the time to risk everything on some untested, inexperienced and untried group," he said.
Smith seeks re-election to the mayoralty of Bayonne against challenger Jimmy Davis.