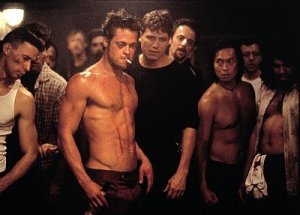 Call it the Barclays brawl.
At the northeast corner of Hanson Place and South Eliott Place in Fort Greene, dozens of teenagers are regularly gathering to beat the crap out of eachother, according to DNAinfo. 
"It's like watching Fight Club, the movie with two kids getting ready to fight and a circle around them," local resident Stephanie Seto said. Ms. Seto told the website that the scraps include up to 30 kids and occur randomly between 3 and 5 p.m.
The NYPD has been investigating the fights, finding that the teens arrange the brutal events through social media and unfortunately, it's been escalating.
"Fight club is organized by kids on Facebook and Twitter, and then they get in a circle and they fight," 88th Precinct commanding officer Capt. Peter Fiorillo said. During a fight club last month, someone reportedly brought a gun and fired.
Capt. Fiorillo reported that no one was hit and no was arrested after the gunshot. Hopefully the fights will stop soon, because we all know teenagers aren't bright enough to remember the first rule of fight club: Don't Tweet about fight club.