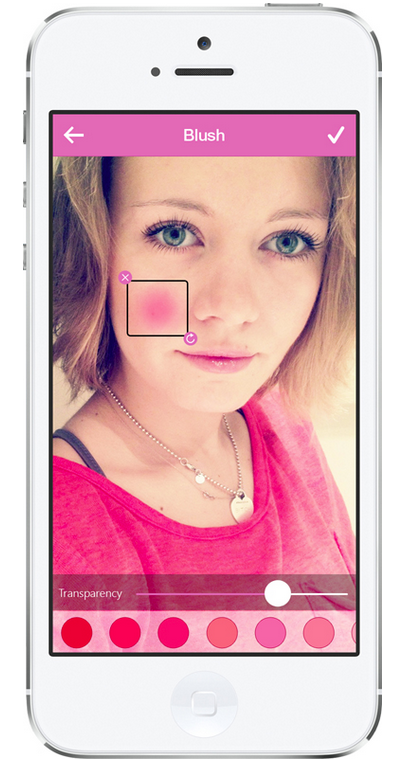 Now that the selfie has been tacitly endorsed by none other than Anne Leibovitz, fans of this particular photographic medium are free to say "eff the haters" and post as many #nomakeup photos as they want.
And using Cheryl Andersen's Selfie app, they can also retouch their selfies with reckless abandon. Basically, it's a cheaper (free, to be exact), more Instagram-friendly version of Photoshop. You can use it to disguise blemishes, augment curves, thin out your cheeks, and even alter your skin tone.
On the eve of her app's millionth download, which is coming any day now, we caught up with Ms. Anderson to learn more about her app, and what she really thinks about selfies.
What is your background and how did you get into tech?
Six months after starting my first day job I realized that the 9-to-5 grind wasn't for me. After reading Tim Ferris's The Four-Hour Work Week, I began my first business at age 19, selling anything and everything on eBay. After months of juggling packages to work on the train and spending my lunch breaks in line at the post office, I was eventually making enough to quit my day job. Since then I have read A LOT of books, spent many hours educating myself and have built multiple profitable websites selling a variety of things from dog products, to my own swimwear line and even a weight loss site. I'm certainly a fan of diversity.
How did the idea for the Selfie app come about?
I had been interested in the mobile space but didn't know where to start. I met a girl who was building iPhone apps and she had just hit 1 million downloads. I was shocked, inspired and instantly hooked! The idea of having no inventory, customer care, or storage space but still being able to sell a great product to millions of people sounded too good to be true. I went home and did a bit of research and came across Chad Muretta's book, App Empire. While sitting on the beach, reading this book for about the fifth time, two Scandinavian backpackers were taking a selfie in front of me. Then it hit me, "How many 24-year-old female app developers are there? Why not use this to my advantage and create an app for young females designed by a young female!" I started planning Selfie that day.
What is the primary demographic for the Selfie app?
14-to-24-year-old females, but there are users 50+ as well as some males. The app is girly and pink and clearly targets the 14-to-24-year-old age group. In general this age group seems to be the keenest "selfie takers" and very active on social media such as Instagram. This age group experiences a lot of amazing first moments, such as going overseas, school, parties, etc., which are selfie-worthy.
Will being a young parent present any unique challenges for someone who's working in the tech world?
I'm a soon to be first-time mum, so I'm not sure what challenges I'll face as a young parent working in the tech world yet. I'm optimistic (or naïve) and believe that being a young mum will inspire me and trigger all sorts of new ideas which will be beneficial as an app developer. One of the greatest challenges with app development is creativity. With over 1 million apps to compete with, how do you stand out from the crowd? I think the greatest place to find ideas and inspiration is from your environment, friends and family. Who knows, maybe my next app will be the ultimate solution for young mums.
We know your app is super popular, but how does it compare to other selfie apps? Why do you think it's been so successful?
So many new apps can be shiny, perfectly optimized and work seamlessly and they die a slow death in the App Store. I think success as an app developer comes down to creativity, a clear focus on who you are targeting, and a lot of luck.
In my case, I had a pitiful budget, no previous experience or mentor and zero knowledge of Xcode. After hiring and firing three different overseas app developers, wasting time and money testing the app which seemed to get buggier every time, I almost gave up. Then, a Facebook status caught my attention: "If you're not embarrassed by your first product, you launched too late." This was exactly what I needed to read. I was trying to create something way too big and technical with far too many features. So I removed half the features I'd wasted so much time trying to fix and submitted Selfie to the App Store the next day. It was far from shiny, or perfectly optimized and didn't work seamlessly but it was LIVE!  Now after almost 1 million downloads I've discovered what my users actually want and don't want I am able to optimize and create features that my users will love!
I'll continue to add simple creative features that set my app apart from the rest. My goal is to make Selfie one of the best portrait editing apps on the App Store with unique and fun features which young women want. I understand this is an extraordinary goal since most of the big portrait/beauty editing apps are owned by massive companies with huge budgets. Creating a high-quality portrait editing app is extremely technical and ultimately expensive, but I'm confident with a little creativity Selfie has enormous potential!
A lot of people hate on selfies. What do you have to say to them? 
People have been taking self portraits for thousands of years, the concept isn't a new one. Nowadays we just have a much better tool to take self portraits with! We all crave social validation, but it's never been so easy or instantaneous until now. I don't think its a trend, I think it's human nature and here to stay. Embrace it, no point hating it.
Some might say a photo-editing tool for faces and bodies is the ultimate tool for narcissists. What do you think?
Social media is only successful due to our narcissistic nature. Theres a narcissist in all of us, we all want to present ourselves the best we can before others see us. If you're going to post a picture of yourself for others to see and you have the tools available to easily and quickly make you look better, why wouldn't you utilize those tools?