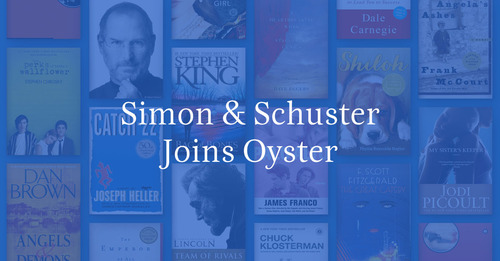 Welcome to Freshly Minted, where we examine an overlooked deal or funding announcement in tech from the past week, and tell you what you need to know, and why it matters.
This week's deal: Oyster, the Netflix for books, signed a deal with Simon & Schuster that will give Oyster subscribers access to Simon & Schuster's entire backlist.
Oyster, a service that charges $10 a month for all-you-can-read access to a library of half a million books, just added heavyweight Simon & Schuster to their list of publishers. That makes two of the Big Five companies that dominate the publishing game, and if Oyster can sign on the remaining three publishers, they could take their place among companies like Spotify and Netflix as one of the great subscription titans of the decade.
It's been a huge week for reading tech deals, and not just because of the new deal between Simon & Schuster and Oyster:
Oyster launched this past September, after one year of development. They started by signing on HarperCollins, who became the first top publisher to join a subscription platform, according to Oyster CEO Eric Stromberg. Since then, they've brought on over 1,600 more small publishers, and gone from 100,000 titles to 500,000 in only eight months.
Convincing the Five
The Big Five are often accused of being slow to adapt to digital distribution, but the publishers we spoke to mostly deny that claim. Part of the reason they still haven't given themselves over to subscription models is that services like Oyster simply haven't proven themselves yet.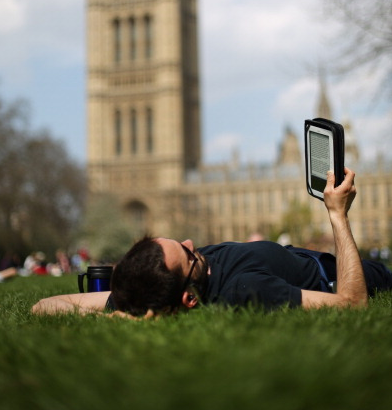 "Subscription models have been talked about since the dawn of digital reading," Simon & Schuster representative Adam Goldberg told Betabeat, "but there have only recently been viable providers."
And if the recent deal trends are any indication, those first few deals are paying off. Mr. Stromberg was reluctant to say exactly how profitable the initial deal had been for HarperCollins, but recently, HarperCollins expanded their deal with Oyster, offering even more books.
"That was a very strong signal that we were producing real revenue for them, and that it was evenly distributed across their titles, not just bestsellers," Mr. Stromberg said.
The New Model
Not everyone is convinced that book subscriptions are the way of the literary future. The International Business Times published an article called "Why Oyster Isn't the Netflix of Books," saying that typical readers don't read enough books to justify the price of the subscription, unlike more worthwhile services like Spotify or Netflix.
But books aren't like movies — it can take much more time to find out something you've started isn't exactly your taste, so unless readers browse new books at length in a physical library or bookstore, it can become costly to try a range of new things.
An all-you-can-read service like Oyster makes it so you can try things, abandon them, pick up dozens more books and browse through them to your heart's content, at no extra cost. This isn't just good for readers, but also for publishers who are trying to get visibility for their older titles. Books on Oyster might find success long after publication, the way some movies and shows become hits on Netflix long after their initial release.
One potential downside is that Oyster and other subscription services provide mostly backlist titles, or books that are over a year past their release date. But Mr. Stromberg says books are starting to come to him as early as three months after the date of publication.
Oyster wants to keep closing the gap between release date and when they get the title — though it's anyone's guess if Oyster will eventually become a home for new titles, or even "Oyster exclusives" in the vein of what Netflix has in House of Cards and Orange Is The New Black.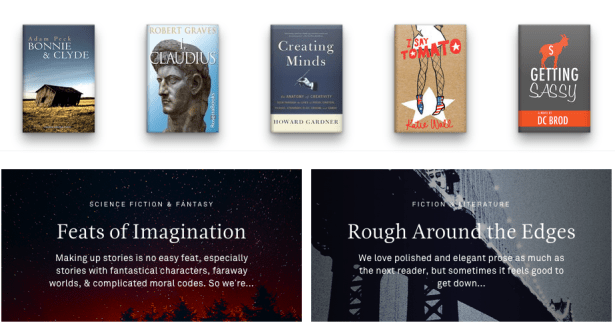 You might also question why you'd ever pay for Oyster when some libraries offer their collections for free, accessible from anywhere on your Kindle. But not all libraries are created equal, and not everyone is lucky enough to have a New York Public Library card.
For now, Mr. Stromberg's focus is just gathering more and more content, which is a strategy that's fueling Oyster's growth.
Gathering Momentum
The new deal with Simon & Schuster isn't just a next step, but a sign of Oyster's accelerating adoption both by readers and publishers.
"There's a cycle of acquiring new content and growing the subscriber base," Mr. Stromberg said, "We get more readers, which makes us more compelling for publishers, which allows us to get more subscribers."
Ebooks may not replace paper books entirely — only four percent of readers are reading ebooks exclusively, and reading tech executives admit there's a real allure to keeping physical books.
But companies like Oyster and Scribd, another service going after the Big Five for similar subscription deals, are poised for rapid expansion into a $15 billion U.S. market with few other major competitors with their model.
Next up for Oyster: Penguin, Hatchette and MacMillan.