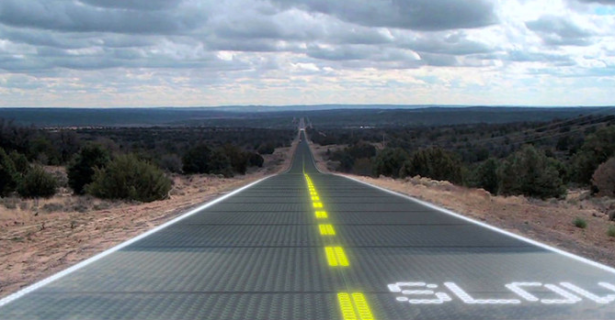 Welcome to Freshly Minted, where we examine an overlooked deal or funding announcement in tech from the past week, and tell you what you need to know, and why it matters.
The deal: Solar Roadways, an experimental project to replace every road in the country with light-up solar panels, has raised $1.6 million in funding in the past six weeks.
Solar Roadways has clearly captured the imagination of its backer community, as well as a slew of mainstream media coverage. Since April 21, the crowdfunding campaign has raised $1.6 million to start manufacturing and testing the panels at a larger scale, and has set an Indigogo record for the most individual backers on a single project, at over 35,000.
It's also impractical, expensive and, as the editors of Equities put it, "really silly." While the project might make its backers feel like they're helping contribute to a greener society, there's no way it'll be adopted on a large scale.
But the cleantech community is excited that people are supporting a company that's about smarter power solutions and infrastructure tech. After all, it's not an issue that gets much attention. Solar Roadways could open the door for more practical possibilities to gain traction and visibility — and there are no shortage of more practical solutions.
First, allow me to burst everyone's happy bubble…
Tilting against the wind turbines
Let's be clear: Solar Roadways can work. The Brusaws, the couple that founded the project, have real proof of concept. The panels exist, they generate solar power, they light up, they're pressure sensitive — all of the necessary functions are either working, or close to complete.
The question is whether or not we're going to install them at the scale like they propose in their Indiegogo campaign, where they paint a vision of a futuristic, Tron-like America, with parking lots, playgrounds and highways replaced by hexagonal glass panels.
The first barrier to this is obvious: money. Even conservative estimates put the project size in the many trillions of dollars. Think that project is going to be sponsored by the federal government? We're already struggling just to fill potholes on existing roads.
See, a big part of the road maintenance budget comes from the tax on gasoline, and as modern cars become more fuel efficient, that budget gets smaller and smaller. Even if Solar Roadways argues that the panels could eventually generate enough electricity to pay for themselves, a public project of that size would require serious new taxes. The Highway Trust Fund may have trouble convincing Americans to pony up a sum greater than the entire national budget, even if they started giving taxpayers — ahem, "backers" — free tote bags and branded coffee mugs.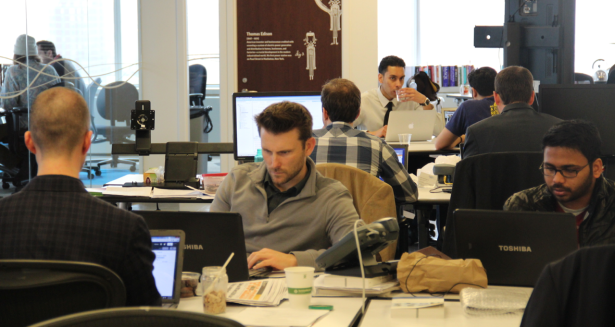 Now, one could argue that the first adopters of this technology won't be big projects, but instead will be smaller groups and individuals putting the panels on playgrounds and driveways. But that doesn't jive with how current power grids work, which brings us to problem number two: The modern electrical system is built to distribute power from a single, central source, not dozens spread out across a town or city.
Clean tech developer Micah Kotch of NYU Polytechnic helped build Brooklyn's Urban Future Lab, a startup incubator that helps develop clean tech companies.
"When Thomas Edison invented the first modern power plant, it sent power one way," Mr. Kotch told Betabeat. "Intermittent sources of power were not how the grid was designed. It's a massive infrastructure problem."
Mr. Kotch works on solving these problems every day with companies who are working on exactly kind of issues Solar Roadways aims to address — companies you've probably haven't heard of. And that leads us to one of the biggest problems of all: the technology we need to solve our energy and transportation crisis already exists. It's just not getting the attention it deserves.
No shortage of solutions
Infrastructure tech companies don't often get buzzy coverage from The Verge or Business Insider. But there are plenty of startups in this field that don't just have cool products and clicky campaigns, but real business models.
At Urban Future Lab alone, there are startups like:
Smarter Grid Solutions — a startup that's taking on the aforementioned issue of introducing power sources like solar and wind in older power grids.
HEVO Power — a company that makes wireless electric car charging for shipping and cargo fleets.
Enertiv — a startup that builds sensors and software to help monitor power usage coming from your breaker box, down to each light bulb and AC unit.
These are startups that know the strife of trying to affect real change in the infrastructure world, where the powers that be are reluctant to partner with tech startups.
"If you're a city buying streetlights, you want them to last 40 years," Mr. Kotch said. "If you're dealing with a venture backed startup, you have no idea that they're going to be around that long."
But these companies are finally starting to gain traction. Smarter Grid is working with Con Edison on the New York City grid, and HEVO Power just landed a contract to pilot their wireless car batteries for Frito Lay's trucking fleet. These are real solutions — not to mention, great solutions to solar energy that are cheaper and more efficient than putting panels in road tiles.
"The solutions around clean generation exist," says Mr. Kotch. "If you want to do your part, there are currently available solutions and ways that the American public can engage in our challenge to build a clean energy future."
As for Solar Roadways, Mr. Kotch and others in clean tech think it's fantastic that people are so excited about addressing what they see as the greatest problems of our generation. Maybe Solar Roadways could be a tipping point, showing people the possibilities for what clean tech is capable of. To get from where we are to a more sustainable future, we're going to need projects that transform our cars, our roads, and our power grid.
Solar Roadways just isn't that project.