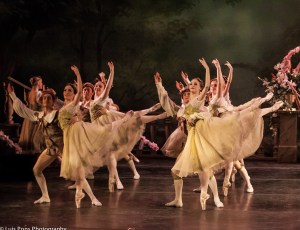 Gelsey Kirkland has had more than her share of demons, as her two distressing memoirs—and her violently checkered career—attest. Those of us who fell in love with the purity and intensity of her work when she was a baby ballerina at New York City Ballet watched in fascination and horror as she not only abandoned Balanchine for the lure of Baryshnikov and "the classics" but fell victim to the self-destructive impulses that led to profound eating disorders, dangerous drug addiction and plastic surgeries that could almost be considered self-mutilation. She was a ravishing dancer, and a beloved one, but her obsessive drive for perfection—unattainable in ballet as in most things—resulted in the frantic oscillations of her career and its eventual collapse.
But alongside those self-destructive impulses, she housed qualities essential to a dancer—determination and resilience—and in the course of time, they carried her through to a new stability and a remarkable achievement. After some years in Australia, where she worked hard to become a teacher, she returned to America and re-established herself as a valuable member of the ballet world, teaching and coaching—and, crucial to her temperament, in control of her situation, in charge. Despite a disastrous collaboration with her husband, Michael Chernow, and Kevin Mackenzie, the head of ABT, on a recent version of Sleeping Beauty—a humiliation for all concerned—she has emerged as the co-head, with Chernow, of a serious dance school and an ambitious company. They're called the Gelsey Kirkland Academy of Classical Ballet and the Gelsey Kirkland Ballet, in case there should be any confusion about just who is in charge.
Some months ago, the company—now comprising 23 dancers, plus backup from 72 full-time professional training students—presented a rich mixed bill with varying degrees of success but always reflecting the seriousness of Kirkland's pedagogy: These dancers were trained. This past week, in an astounding display of … courage? nerve? chutzpah? … she and Chernow had another go at Sleeping Beauty, this time minus perversities and eccentricities.
There is no more daunting an assignment for a ballet company: Balanchine, for instance, always insisted that City Ballet didn't have at its command the resources he required for Beauty and left us only one fragment: his enchanting version of the "garland dance." Kirkland didn't have the resources either, but that didn't stop her, and thanks to her intelligence and dedication, what she has come up with is far more plausible than seemed in the cards. Her dancers, particularly the corps girls, made an excellent impression, no one disgraced him- or herself, and the staging was clever and appealing, making the most of the company's limited resources and doing a good job of disguising its limitations. And certainly the endeavor has given badly needed experience and confidence to its young dancers.
But Sleeping Beauty makes demands that this start-up of a company can't meet. To begin with, it didn't give us a thrilling, radiant Aurora. Dawn Gierling is a hard-working and accomplished technician, and she clearly was coached down to the last detail. But she doesn't as yet have the stage glamour Aurora demands; she's a capable executant, but she lacks resonance. Her Prince, Johnny Almeida, worked hard and provided adequate support, but he's not yet a danseur noble. Another big problem was the absence of mature character dancers: The King, the Queen, the Catalabutte looked and moved like youngsters—well, they are youngsters. India Rose was more lyrical than expansive as the Lilac Fairy, though she danced appealingly. The Bluebird Pas de Deux was cautious. The Carabosse, Eva Janiszewski, was effectively accoutered and danced strongly, but she came short of suggesting the scary malignity of this wicked fairy who represents the evil in our world.
The most successful passages were those that showed off the overall polish of the company rather than individual performances. Kirkland's "garland dance" had a fresh charm, though it was somewhat hampered by the shallowness of the stage (impressively wide) of the Pace University theater. The Vision Scene was lovely, the corps fluid and precise and Gierling, Almeida and Rose more at home in it than when dealing with the more taxing demands of the famous set pieces. The Awakening Scene was especially well conceived—appropriately ardent, with the added touch of Carabosse fainting (dying?) and being carried out at the moment of the kiss that defeats her terrible curse. There were other such happy details throughout—a stunning tableau to open Act One, for instance. The handsome costumes, designed by Chernow, gave the impression of royal luxury; the courtiers had been carefully drilled in their posture and manners.
You can tell that an immense amount of thought and labor went into this Beauty, but for the central ballet in the history of the art form, with its profound story and glorious Tchaikovsky score, you need more than thought and labor; you need profound and glorious—and experienced—dancers. Most important, for your Aurora you need a Fonteyn, a Kolpakova, a … Kirkland. But this is only the third year in the history of the Gelsey Kirkland Ballet, and she has willed something remarkable into existence. Her pedagogy is secure and her ambition measureless. Where, though, do you go after Sleeping Beauty?