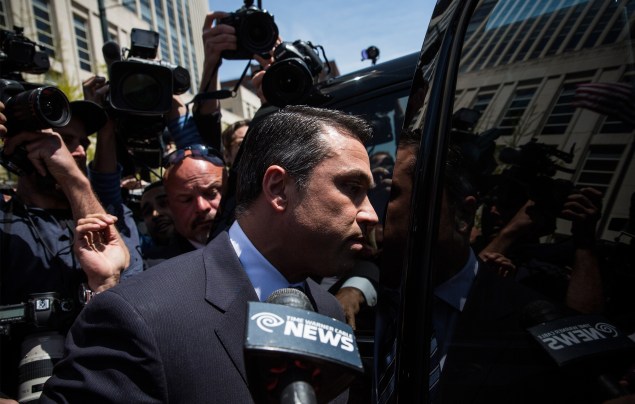 Geraldo Rivera is on quite a roll lately.
After two days of blasting federal prosecutors for indicting his "friend," Congressman Michael Grimm, the conservative talk show host took things to the next level yesterday, going after State Assembly candidate Todd Kaminsky for his role in the investigation.
Mr. Kaminsky was a member of the team that worked to indict Mr. Grimm, a Republican, but the now-former U.S. assistant attorney resigned his post to run as a Democrat for the Long Island seat currently held by Assemblyman Harvey Weisenberg, who announced his retirement earlier this week. On his WABC radio show yesterday morning, Mr. Rivera rather passionately connected Mr. Kaminsky's campaign to the case.
"Todd Kaminsky, how dare you? How dare you?" Mr. Rivera declared, his voice booming. "Shame on you."
"Do you want this?" Mr. Rivera asked. "Do you want people who harbor these partisan political aspirations, do you want them to control the vast mechanism of the federal prosecutor's office and the power of the Justice Department of the United States of America, to bring it down as an anvil to smash the political opposition? Is that what federal prosecutors are supposed to do?"
"He has been thinking about this the entire time–or most of the time–he has been pursuing Michael Grimm," the host further asserted. "And remember they were going after Congressman Michael Grimm for campaign finance violations and found none! Or none that they could prosecute. So they kept at it for two years until they could get Michael Grimm for hiring those illegal Mexicans in his health food restaurant."
Reached for comment, Mr. Kaminsky's campaign only provided the statement they gave Mr. Rivera to read on-air: "I welcome the opportunity to discuss my ideas for improving the lives of the residents of the South Shore of Long Island and my decade of work investigating and prosecuting corrupt politicians, illegal drug peddlers and fraudsters on behalf of New Yorkers. I am, however, not permitted to comment on a pending case."
The U.S. attorney's office provided Politico a more comprehensive defense of Mr. Kaminsky's record, noting his work prosecuting numerous Democratic politicians and disputing the notion that Mr. Kaminsky was even the lead prosecutor on the Grimm case.
"The investigation of Mr. Grimm was handled by career FBI agents, and the charges were brought by a team of career prosecutors. Mr. Kaminsky was not the lead prosecutor on this case, did not make the final call on bringing charges, and will have no role going forward, as he has departed the office," U.S. Attorney Loretta Lynch said in a statement.
Mr. Grimm, who faces a host of tax fraud and perjury charges related to his management of an Upper East heath food restaurant–not just hiring undocumented immigrants, as Mr. Rivera has focused on–has maintained his innocence. But the congressman seems to be taking Mr. Rivera's side.
He shared the Politico article on Twitter yesterday while calling the charges a "#witchunt."
"This article speaks for itself," he wrote.