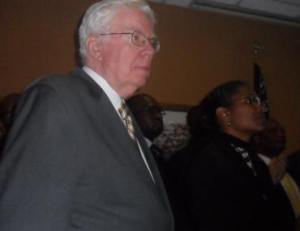 NEWARK – He grew up in the city, West Ward born and bred, on a block and in a parish with other political families – the Durkins and Cryans among them – and now he's engaging with a voracious presence that has caught the eye of other pols as this local contest intensifies.
Assemblyman Tom Giblin (D-34), president of the Essex County Central Labor Council, has taken a frontline role in GOTV operations for the Newark mayoral candidacy of Ras Baraka.
"It's not so much that I'm anti-Shavar as it is I'm pro-Ras," Giblin told PolitickerNJ. "We cannot let the public sector deteriorate, and that's my primary concern, especially when you look at what has happened with the Newark Board of Education."
As the campaign season heads toward Tuesday, May 13th, Election Day, Giblin and his public sector AFL-CIO allies are leading labor walks and labor phone banks on behalf of Baraka.
Members of both campaigns have been impressed in the last number of days with the independent expenditure air war barrage launched against Baraka on behalf of mayoral candidate Shavar Jeffries.
Giblin has his head down on the ground war.
"We're synchronizing with the Baraka Campaign as much as we can within the provisions of existing labor regulations," said the veteran lawmaker/labor leader. "We are targeting those core Newark voters who are supporters of the Baraka campaign and looking to cross match to avoid duplication.
"I have respect for the opposition resources, but it's all going to come down to Election Day," Giblin added.
Part of the central labor council's effort is to boost the candidacies of their other endorsed candidates in the council races, including At-Large council candidates Luis Quintana and Eddie Osborne.
Giblin says Baraka will need help on the governing body if he expects to get anything done.
"As I said, my primary concern in the end is the proliferation of charter schools creating a situation that is not a level playing field; we have schools cherry picking kids, buildings handed over to charter school educators; we have between 10,000-11,000 kids in Newark charter schools right now and my feeling is that unless we make a stand we will be wall to wall charter."