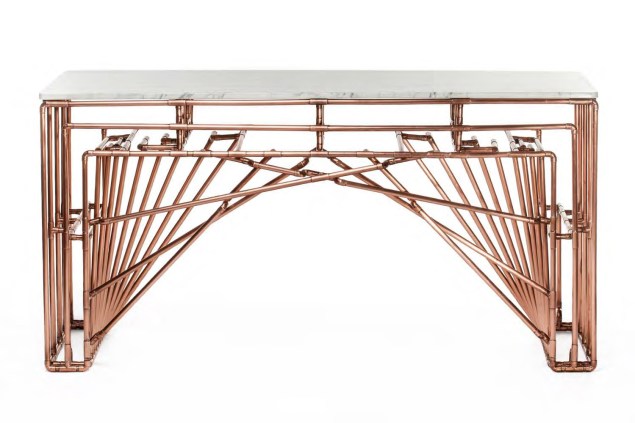 While the raw quality of many Brooklyn artisans' work adds authenticity and a maker-ish feel to their pieces, it takes a splash of true originality for individual work to stand out. The luxury of polished metal or the flash of light catching on heavy glass is rare, but the work of Gowanus-based T.J. Volonis encompasses both. This creative master manufactures furniture and art from raw copper piping. The Brooklyn-Barcelona Console Table (above) would sit as well in a rock star's loft as a socialite's salon.
"I began my career making functional art," Mr. Volonis told the Observer. "I'd always liked copper as a material and fantasized about working with it. When my coffee table broke, I randomly had the idea to try making a new base with the tubing. That was back in 2005, and it has only been in the last couple of years that I have established a career making these pieces." 
Mr. Volonis is a member of Arts Gowanus, a new collective launching an exhibition and fund-raiser this week, curated by Benjamin Sutton, the news editor of artnet.com. "Gowanus has an artistic history alongside the industry of the canal, which may come as a surprise to those who pass through the area. Louise Bourgoise, whose giant bronze spiders have been seen round the world, had a studio here. A few of us who work locally got together and decided we wanted to curate a showcase of our work," said Mr. Volonis.
Aside from furniture, Mr. Volonis creates art for copper piping art's sake, with wall-hanging pieces providing an outlet for his fascination with grid patterns and the work of the artists Mondrian and Josef Albers and the architect Frank Lloyd Wright. "I love Asian themes too; bamboo is my favorite plant." 
Arts Gowanus will provide an opportunity to actually touch and feel the work of Mr. Volonis and his cohorts, many of whom have finally rebuilt businesses after Superstorm Sandy caused the canal to overflow. Support for all is crucial. 
Arts Gowanus, Gowanus Loft, Brooklyn, artsgowanus.org