Tara Spiegel, Greg Spiegel
eepsteinobserver
Taryn Garcia, Meghan O'Grady
eepsteinobserver
Alex Gorman, Angela Trostle
eepsteinobserver
Eric Trump, Lara Yunaska
eepsteinobserver
Scott Harrison, Joseph Meyer, Mike Albanese
eepsteinobserver
Ken Kurson, Jared Kushner
eepsteinobserver
Jared London and friend
eepsteinobserver
Christy Rao, Noelle Dunphy
eepsteinobserver
Alex Forrester
eepsteinobserver
Mike Denton, Julia Fehrebach
eepsteinobserver
Chiu-Ti Jansen
eepsteinobserver
Noah Kaplan, Zarah Burstein
eepsteinobserver
Nicole Meyer, Lauren Bush Lauren
eepsteinobserver
Delphine de Causans
eepsteinobserver
Noah Kaplan, Gillian Merckhart, Giuliana Berkley, Jonathan Klein, Ryan Farmer
eepsteinobserver
Adriana Troli, Zarah Burstein, Taryn Garcia
eepsteinobserver
Mike Denton, Kimberly Denton
eepsteinobserver
Brian Schimanski
eepsteinobserver
Timo Weiland, Allen Ezkstein
eepsteinobserver
Erin Brady
eepsteinobserver
Chase Harnett
eepsteinobserver
Last night, the New York Observer celebrated the second annual Young Philanthropy Event at the W Hotel Union Square. In honor of giving back, guests raised a glass for the top 20 young philanthropists who have gone above and beyond for people in need.
From Rosario Dawson raising over $7 million in support of low-income New Yorkers living with aids with Housing Works, to John Kluge Jr., the co-founder of Toilet Hackers, who's dedicated to having dignified sanitation worldwide, the Observer garnered a distinguishing list of young philanthropists this year.
The evening began with a silent auction, where guests were able to bid on works from Shuishi Liu, Peng Yue, Wenjun Fu, and John Ransom Phillips, before strolling into the main room. Once inside, leading fashion designers/DJs, Timo Weiland and Alan Eckstein, spun the beats while guests nibbled on mini shrimp cocktails, pizza, bruschetta, and sipped Sea Breeze cocktails with Stoli vodka. Partners of the evening include Berges Creative Group, Koszyn & Company, One Art Foundation and Ronald McDonald House New York.
The common thread between these young humanitarians, who are determined to make a change, is that they're in the center of the world, New York City. Mike Denton of Camp Interactive, who introduces technology to at risk inner city youth, told the Observer, "There are three things that make New York unique for an organization like ours. There's a tech eco system that's supporting what we're trying to accomplish. There's a whole ton of industry, from DC to start ups, who want to support this movement, and there's a political system that's aggressively trying to solve the issue with us."
Serendipitously, the honored influencers have all crossed paths throughout the years, and the evening was a reunion of sorts. Julia Fehrenbach, co-founder of Building Blocks For Change, mentioned, "I actually helped grow Pencils of Promise with Adam Braun, and he's always been a big inspiration of mine." John Kluge Jr. shared, "I served on Adam's board for two years, and we give each other advice from time to time. Scott is doing amazing work with water, and sanitation is the sister, so there's an interest for us to collaborate. But I think the idea is that, despite having different interests, there's a real need for us to work together." Lauren Bush Lauren, who founded FEED, added, "Scott Harrison is a good friend, and he started charity: water right when I was starting FEED, so we go way back. But I'm very honored that the Observer chose to put me on this list for a second year. I have to do something cool this year so I can come back next year!"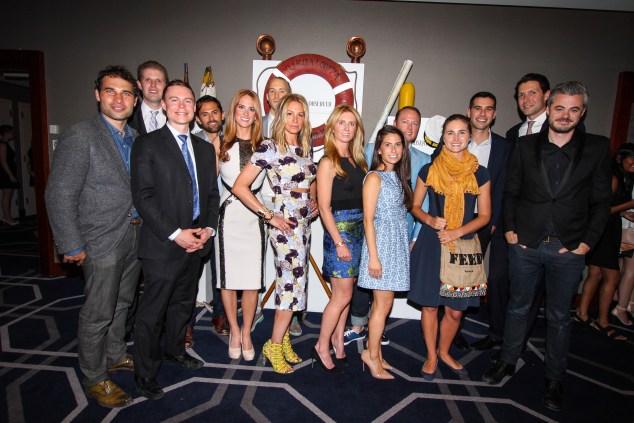 Observer CEO, Joseph Meyer, gave a speech to recognize the 20 philanthropists, and introduced charity: water's Scott Harrison. Mr. Harrison then said a few words on his time in New York, and how he hopes everyone can not only give what they can, but give joyfully. He also concluded with his favorite quote from a Jewish Rabbi, "If not us, then who? And if not now, when?"
Alex Forrester, co-founder of Rising Tide Capital, provides economic empowerment to low-income communities. He also shared his philosophy with the Observer, "The purpose of life is to learn how to love. I think we live in a world that thinks love is a feeling, but I disagree. It's an action. So if we can find ways to pour love into the corners that are forgotten or overlooked, that's what love really looks like."
Eric Trump, who's also on the list for the second year in a row, has not only raised more than $28 million for St. Jude's Children Research Hospital, but has contributed to considerable change when it comes to children with life-threatening diseases. Mr. Trump commented, "I know many of the philanthropists, and everybody has their niche. The one thing about everyone on the stage is they mean it, and the thing I can tell you about everyone in this room is they make a difference. Their charity is on the forefront and it is sincere. It's a really great testament to the Observer that they can honor great people who are really making a difference."