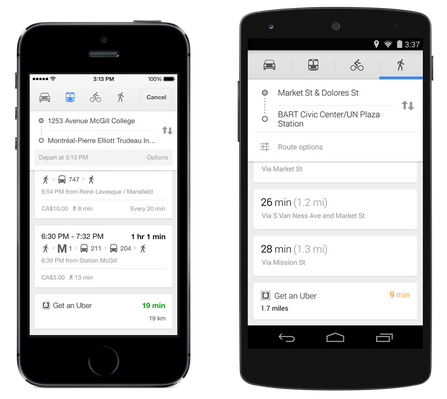 As if the temptation to give up on the subway and splurge on an Uber cab weren't great enough already, Google Maps is now connected to the on-demand rideshare app.
An update of Google Maps released yesterday includes the Uber integration, as well as a few more enhancements. Now, when you look up directions on your device and select the walking or public transportation options, a prompt reading "Get an Uber" is at the bottom of the list of possible routes. The app also highlights the Uber travel time in a bright color, just to reinforce how much time you'd save by taking a car.
As TechCrunch reminds us, Uber is a Google Ventures portfolio company. Google "always maintains its venture arm operates independently from the rest of the organization," TC says, but we doubt the search giant added the Uber feature out of the goodness of its heart.
If you do click the Uber option, Google Maps will transport you directly to the Uber app. Double-check that surge pricing isn't in effect, and you're good to go.
The update also comes with improved driving directions. It'll tell you which lane to stay in or move to, Google's blog reports, and provide easier access to alternate routes. It includes offline maps now, too, as long as you plan ahead and save the map ahead of time. This will prove especially clutch for long subway rides.
Updates were also made to Street View, mass transit arrival and departure offerings, and restaurant listings.