After Betabeat tried Google Glass for the first time at Google HQ in New York, both writers experienced a sharp pain after about ten minutes, which went away shortly after we took it off.
On our second visit, we asked the team at Google Glass base camp in New York how they were managing the headache issue. They seemed baffled by the question.
To be fair, scientists and doctors have always had trouble figuring out what causes some common kinds of headaches, and there's no easy explanation for why users would get headaches. But to just chalk it up to a coincidence denies the many firsthand accounts of Glass-induced pain:
So we pressed and pressed further, until Google put us in touch with Dr. Eli Peli, the Harvard optometrist who they brought on to consult them on ocular discomfort.
As it turns out, the issue of Glass-associated pain goes back to the beginning of the project, starting with the decision to place Glass in the least comfortable area of the human field of vision.
At first, Google tried putting it straight ahead of the eye, and then below the eye — the first and second most comfortable places.
"The only people who look up a lot are some professionals like electricians and painters," Dr. Peli told Betabeat. "Most of us look either straight or down. It's well known that up is less comfortable."
When Google placed the display ahead of or below the eye, it obstructed the user's line of vision. To keep the user's head up, they placed it to the upper-right. While this positioning can keep the user from crashing into things, it can also cause sharp eye pain.
This is because usually, when we look to the left or right, our eye is only glancing for a quick moment before our head catches up — a second at most, Dr. Peli said. We almost never actually look to the side with just our eyes for long periods of time.
"You're on one leg [or the other] as you walk, but try to stand on one leg for a long time and you'll feel tension, because you're not using it how it's normally used," Dr. Peli said. "If you're looking at the Glass for a minute, you're holding it there for sixty times longer than normal."
Google Glass wasn't designed with the hope users would stare at it at length, but for "micro-uses" such as checking directions, reading a text, or taking a picture — not streaming Netflix. But when you first get Glass, Dr. Peli said, your first inclination is to play with it a lot and fiddle with the settings. Staring at it for a while in the beginning is when that pain sets in — pain that Dr. Peli felt himself at first, but he knew that calling it a "headache" wasn't quite right.
"It's not a headache, it's sort of a discomfort in the eye muscles," he said. "To describe it as a headache is inconsistent with how people experience headaches."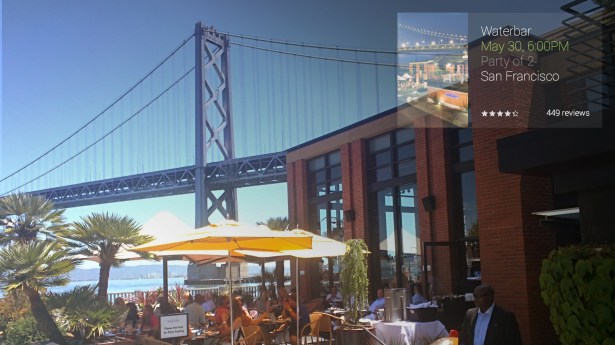 The pain goes away for most users after a few days to a week, Dr. Peli said, as the muscles around the eye get used to looking in weird directions, and as users stop playing with it so much and start using it briefly throughout the day.
"The recommendation is to not overdo it when you start," he said. "Use it in the recommended way right from the beginning."
But Google can't expect that everyone will use it as recommended — there are already plenty of cases of people using Glass in ways Google never intended. And why wouldn't they stare for a while if there's no "be careful of eye-aches" part of the Google Glass tutorial?
"I think there should be a warning that comes with Glass; that if you start to get a headache, you should limit your use," Chris Barrett, one of Glass's biggest fans and advocates, told CNET. Mr. Barrett said the pain was so persistent that he swore off Glass permanently.
It's easy to understand why Google doesn't want to advertise that their hottest new tech toy can make your eye feel like it's splitting in two — but we can't imagine that the best way to handle this is to sit back and let people wonder what's causing the pain.
Update: Google has provided additional comment after this story was published, included below:
"When anyone gets a new pair of glasses or starts wearing them for the first time there is always an adjustment period until people get used to them. For some it's the same with Glass.  We encourage Explorers to ease into Glass, just as they would a new pair of glasses. As we note in our Help Center, Glass is designed for micro-interactions, not for staring into the screen, watching Friday night movie marathons or reading 'War and Peace."
Update: An earlier version of this article said Dr. Peli was an ophthalmologist — he is in fact an optometrist.