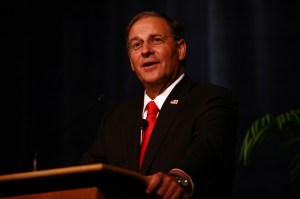 TRENTON – GOP legislators serving on the joint legislative committee investigating the Gov. Chris Christie administration over the George Washington Bridge lane closings will be taking part in today's hearing.
According to sources, Republicans serving on the committee will be present for the proceedings slated to kick off within the next 30 minutes.
The news comes after GOP legislators held a conference call Monday afternoon to discuss their role in the ongoing investigation and whether they'll continue to take part in the process.
Republicans have indicated in recent weeks they may pull their involvement from the committee citing concerns the proceedings are turning into a partisan investigation.