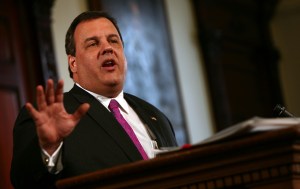 TRENTON – Gov. Chris Christie couldn't believe that former Port Authority executive David Wildstein mentioned anything about a traffic study or traffic jams when he briefly met with the former executive during the time of the lane closures.
Christie spokesman Michael Drewniak gave lawmakers a glimpse into the governor's reaction following news that Wildstein claimed he told Christie about the traffic study when he saw the governor in person during a Sept. 11 memorial event.
Drewniak described for the joint legislative committee his dinner with Wildstein before the former executive would be asked to resign from his post.
During the dinner, Drewniak told lawmakers Wildstein told him former two-time campaign manager Bill Stepien and former Christie top aide Bridget Anne Kelly knew about the study, and that he even "threw [Christie] into this," Drewniak said.
"He was incredulous," responded Drewniak when pressed to describe Christie's response to Wildstein's statement to Drewniak.
"He said something to the effect, [of] … 'What? He tells me something about a traffic study and I'm supposed to know what he's talking about?'" Drewniak recalled Christie saying.
Previous posts from Bridgegate committee hearing:
Christie's 'flippant' Bridgegate remark evidence he thought it was a traffic study
Questions on Christie's time as U.S. attorney emerge from Bridgegate hearing
Bridgegate traffic jams 'seemed at the moment a bottom of the barrel issue'
Chief Chirs Chirsite spokesman goes before Bridgegate hearing
Weinberg and Christie spokesman find common ground