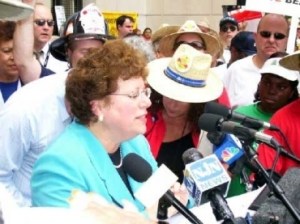 Democratic congressional hopeful Sen. Linda Greenstein's (D-14) campaign is on television with its first TV spot of the race.
The 30-second spot, dubbed "all of us," features the state lawmaker locked in a closely-watched Democratic primary declaring "it's time we got Congress working for all of us." Greenstein is vying for an opportunity to replace outgoing U.S. Rep. Rush Holt (D-12) in Washington D.C.
"In Congress, Linda will stand up for equal pay, affordable childcare and a woman's right to choose," the female voice says during the ad.
The TV spot begins airing today and is slated to air in all four CD 12 counties until the June 3 primary election. The campaign invested more than $80,000 this week on the cable ad buy, according to the campaign.
Greenstein is competing against Assemblywoman Bonnie Watson Coleman (D-15), Assemblyman Upendra Chivukula (D-17) and Princeton professor Andrew Zwicker.