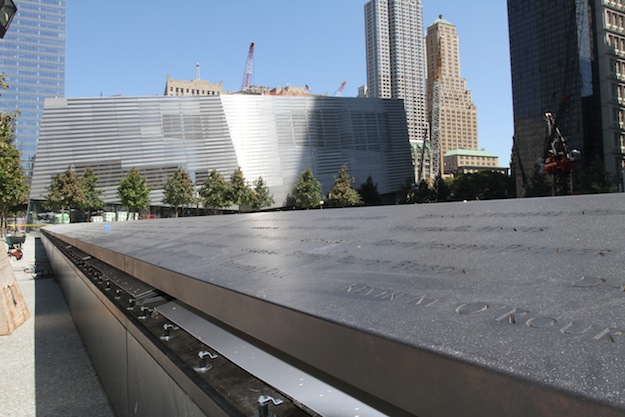 The 9/11 Memorial is probably the only NYC landmark cool with graffiti.
The New York Post reported that visitors of the 9/11 memorial have been scratching heartbreaking graffiti messages, like "Love4ever," into the bronze memorial placards listing victims' names.
While Ground Zero workers are required to file a criminal mischief report, no arrests have been made and law enforcement is not looking to go after these grieving graffiti-ers.
"Can you imagine the conflict a cop would feel about having to bust someone for leaving a personal message to honor a dead relative who was murdered at Ground Zero?" a law-enforcement source said to the Post.
Police haven't gone out of their way to focus on the names next to which the graffiti is etched in, an obvious clue as to who the graffiti-er may be.
Of the 40 reported graffiti messages, most remain short and sweet, and so far all have been respectful and heartfelt, sources told the paper.
These makeshift tributes don't stay up for long though, as the 9/11 memorial maintenance workers are instructed to repaint the plaques and restore the bronze finish immediately.
The memorial has been described by President Obama as "a sacred place of healing and of hope," and graffiti-ing is certainly more conducive to healing than throwing parties is.