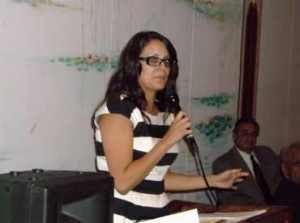 NEWARK – Assemblywoman Eliana Pintor Marin (D-29) headed out for another evening of campaigning.
A married mother with a daughter in the Ironbound, the lawmaker says she's working every day for the Shavar Jeffries cause.
She's a believer, she says; and to her it comes down to the way her candidate for mayor relates to all people, and all strata of government.
"He's the type of candidate who can work with everyone – at the local, county and state levels," said Pintor Marin, a member of the Assembly Budget Committee, which all week wrestled with the news of a projected $800 million budget shortfall and a $93 million gap in the City of Newark.
"We have some very tough issues facing this city," said the assemblywoman, "and I believe that Shavar has the temperament to build relationships for the good of Newark.
"He's from Newark," she added. "He was born and bred here. This is a man who comes from a broken home. It pains me that his grandmother, who died recently, will never see him become mayor. But I know she's looking down on him. As much as I respect Ras, I just don't see him quite there."
A former state Attorney General and Seton Hall University law professor, Jeffries is running against South Ward Councilman Ras Baraka. Independent expenditure spending continues to force feed an air war of advertising on both sides, with the better-funded allies of Jeffries supplying more air time in the closing days of a very hard fought contest.
As she makes the case for her mayoral candidate, Pintor Marin points to crushing tax rates on residents and businesses in her home ward, and crime, including routine car-jackings in front of her home.
"I was walking with Shavar last week in the East Ward, and we went to the home of a woman who commutes to Long Island who asked him some very tough questions about crime and education and we must have spent 15 to 20 minutes there as Shavar just talked to that one person. What strikes me about him is his charisma combined with a very genuine quality."
She plans to campaign for him through Election Day, and join the candidate at rallies on Friday and Saturday.