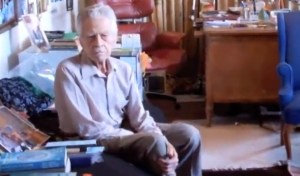 He must be sick of the "Happy Birthday" song by now.
Alexander Imich, a resident of the Upper West Side, celebrated his belated 111th birthday with chocolate cake at his home last week, The New York Times reported.
Mr. Imich, a Polish immigrant, took over the title after Arturo Licata from Italy passed away on April 24 this year, at the age of 111 years and 357 days.
When asked how it felt to celebrate his birthday for the 111th time, Mr. Imich told The Times, "Not like it's the Nobel Prize".
Born in a Jewish family in 1903, he earned a P.h.D. in zoology, but immigrated to New York after having fought the Bolsheviks in the Polish-Soviet War, escaped the Holocaust and survived a Soviet gulag. He later became a chemist and published a book at age 92.
At the point where he became a supercentenarian (joining those over 110) Mr. Imich was congratulated by the New York State Senate.
When asked to reveal his secret behind living such a long life, he explained that his wife and he never had children. "That might have helped," he told The Times. (An 84-year-old nephew is now his closest relative).
This is not the first time that a New Yorker claims the honor. Last fall, Grand Island resident Salustiano Sanchez Blazquez, who then held the Guiness World of Records title, passed away at age 112.
Mr. Imich is also not the world's oldest person alive. Japanese woman Misao Okawa is 116, and 65 more women across the globe out-age him.