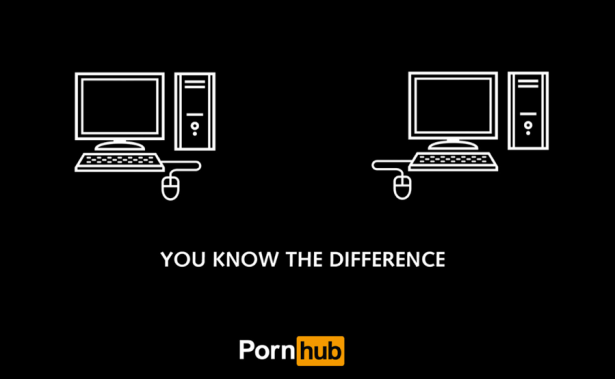 You know who they are, even if you pretend you don't. "Pornhub?" you ask. "What's that?" They're the site that moves more traffic than Netflix, CNN, Pirate Bay or Alibaba. But even with Pornhub's pervasive presence as a cultural undercurrent, mainstream media channels still won't let them advertise their services.
CBS famously blocked them from running a Super Bowl spot, and even Spike TV refuses to entertain the thought of Pornhub openly advertising on their network. So in order to get any attention, Pornhub resorts to stunts, campaigns and a little help from the press.
Just the other week, they pledged to plant trees in honor of Arbor Day for everyone viewing "Big Dick" videos, and hired the notorious Duke University porn star Belle Knox as an intern. Most recently, Pornhub grabbed headlines for holding a Safe-For-Work advertisement contest, asking their creatively-inclined users to come up with a new national advertising campaign.
But as long as there's a gulf between our personal standards and our actual behavior, it's a long way to go before we're seeing commercials for BDSM porn during daytime television.
Betabeat spoke with Mr. Price about Pornhub's emergence into the mainstream.
Pornhub gets the occasional media play for your holiday campaigns and publicity stunts. Even with as much traffic as you have, is it still a struggle to get into the public eye?
I wouldn't say it's a struggle. It's a challenge.
Historically, it was a struggle to get into the public eye. Porn was too taboo for mainstream press, and they were reluctant to run news stories — forget about advertising. However, with the evolution of online media and through various marketing and PR wins, we've been able to make some serious headway.
Are there marketing advantages to being taboo and notorious?
100 percent. It's essentially an untapped market, and we're the only player in it. We have tons and tons of data that people want. People may have not taken our data seriously at first, but eventually we managed to make our name synonymous with interesting information and insights.
Also, there is no other company in our position to leverage sex and sex puns, which certainly attracts eyeballs.
Is it trouble selling ad buys on porn to more traditional marketers?
There's certainly been a taboo with regard to advertising on porn sites, but some people have discovered how impactful ads can be on our network. The movie Don Jon, for example, not only featured Pornhub's site in their movie, but advertised for it on our site with great success. Eat24 realized that the lower costs, and higher CPM made it a risk worth taking.
Is Pornhub in a position to push the envelope in terms of what we feel ready to talk about publicly?
Most definitely. We create these various initiatives, subsequently get press on them and then people talk about it. It takes away the taboo-ness. The more we do this, the more people will feel comfortable talking about porn. For example, I was in line at a local grocery store during our Arbor Day campaign, and I heard a group of guys, likely in their mid-30's, talking about how each of them was personally responsible for planting a forest. Would they otherwise have talked about how much they were watching an excessive amount of porn? Probably not.
It seems like we can't talk about porn in America without a wink and a nudge, even as porn makes its way further into the mainstream. Are we approaching a point where we can talk about porn openly?
People may think they are the only ones watching online porn, but the fact of the matter is they are not – and we have 37 million daily visitors to prove it.
I think there are certain demographics more likely to talk openly about porn, which helps the level of taboo drop, and the comfort in talking about this topic increase. Social networks also play a key role in furthering discussions about porn. Just look on Twitter and search Pornhub, see how many people are talking about it. It's amazing how far we've come.