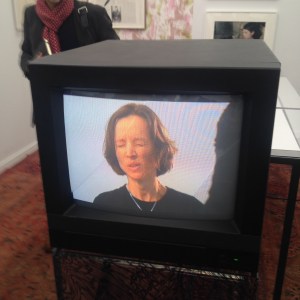 If you're in the general vicinity of Gap Lounge at Frieze New York, be sure to swing by the Artists Space booth, where you will find Slapped (2014) by Marie Karlberg, which consists largely of a video in which the artist slaps her friends, hard, across the face.
Also part performance and sculpture, the video sits atop a vinyl column. But the slapping really steals the show. Moreover, the comedic timing on the video is terrific. All the faces are introduced one by one and then, with various pauses betweeen them, slapped.
Some tremble. Some wince. The coolest dudes don't do anything.
You may even recognize some of the faces! There's Sam Pulitzer (who has a show at Artists Space at the moment), Stewart Uoo and Lil Internet!
Ms. Karlberg happened to stop by the booth as I was there and, when I said I wanted to write about the piece, asked if I wanted to be slapped. I said no, because I am a square and asked where she drew her inspiration from.
"I was watching this film by Pedro Costa, O Sangue, and it begins this way, with a face that's then slapped," she said. "I was so affected by it, I don't even remember the rest of the film."
Though it's a film of arty people being slapped at an art fair, she said it isn't any kind of commentary on the market. These are simply the people she knows. The piece costs $3,000.